Re-balance Cycle Reminder All MyPlanIQ's newsletters are archived here.
Regular AAC (Asset Allocation Composite), SAA and TAA portfolios are always rebalanced on the first trading day of a month. the next re-balance will be on Monday January 3, 2022. 
As a reminder to expert users: advanced portfolios are still re-balanced based on their original re-balance schedules and they are not the same as those used in Strategic and Tactical Asset Allocation (SAA and TAA) portfolios of a plan.
Present And Future
As we are entering the final three weeks of 2021, we have gone a long way, both in terms of the current pandemic and the ever lasting financial bull market. In this newsletter, let's review the current asset trends and have a few words on the future. 
Current trends: mini correction over?
Well, it turns out that in the last three weeks, stocks experienced a small correction. The current major asset trends are: 
As of 12/10/2021
| Description | Symbol | 1 Week | 4 Weeks | 52 Weeks | Trend Score |
| --- | --- | --- | --- | --- | --- |
| US Equity REITs | VNQ | 2.77% | 0.99% | 36.78% | 10.69% |
| Commodities | DBC | 4.26% | -4.69% | 42.77% | 10.62% |
| US Stocks | VTI | 3.61% | -0.92% | 28.07% | 8.98% |
| International Developed Stks | VEA | 2.51% | -2.96% | 13.2% | 1.63% |
| Treasury Bills | SHV | -0.01% | -0.04% | -0.1% | -0.05% |
| Total US Bonds | BND | -0.71% | 0.18% | -1.04% | -0.31% |
| Intermediate Treasuries | IEF | -0.88% | 0.78% | -3.02% | -0.71% |
| Emerging Market Stks | VWO | 2.41% | -3.55% | 5.3% | -0.85% |
| Gold | GLD | -0.03% | -4.51% | -3.43% | -2.71% |
So we are seeing that bonds and emerging market stocks are now firmly in a downtrend. In fact, bonds have been in a downtrend for the whole year so far. However, US stocks did come back from their mini correction. Unfortunately, looking at them more closely, we are seeing a very fragile 'recovery':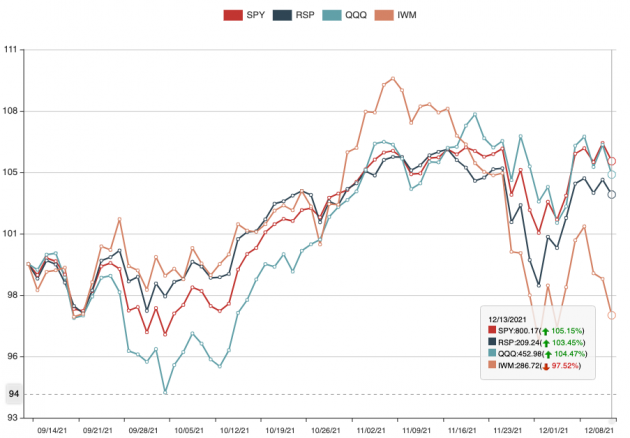 What's alarming is that other than SPY (S&P 500 ETF), all other three ETFs are still off their recent highs, with small cap IWM being more than 10% off its 11/8/2021 high. So it's hard to conclusively claim that the current mini correction is over. 
We are also seeing dismal market internals. For example, the percent of stocks in Nasdaq composite that are above their 200 day moving averages respectively is again falling to a very low 27.49%, more or less matching that at the beginning of March last year when the big decline started because of the pandemic:
Another example is that it's reported that other than two stocks, all of the other holdings of the high flying ARK Innovation ETF ARKK are in bear market, i.e. they have lost more than 20% from their recent highs. Year to date, ARKK itself has lost more than -22% while SPY has gained 26%. 
One can look at other stock segments to see the dispersion. For example, the following chart shows the returns of smart factors: momentum (MTUM), value (VTV), quality (QUAL), minimum volatility (USMV):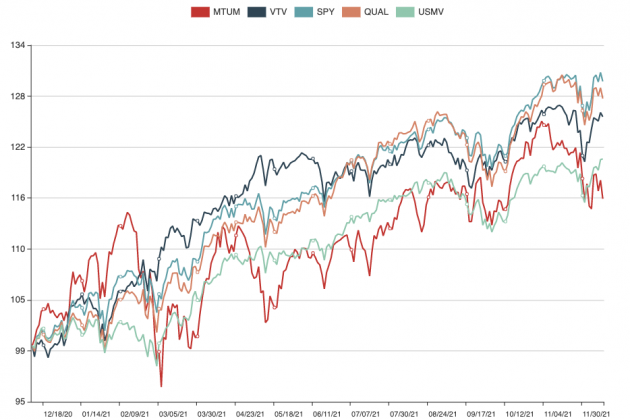 It's noticeable that USMV is now trending higher: some investors are apparently in a risk-off mode.  
We are back to a pattern we have seen all of these years:  extremely non-uniform market internals. Whether the laggards in small cap stocks and Nasdaq will be pulled up again remains to be seen. At any rate, the current market strength is weak. 
Looking ahead
It has been pointed out numerous times that the current stock market valuation is at an elevated level that can rival the most expensive ones in history. We will not spend more time to discuss this. However, we do want to make a brief comment on the future here: 
Going forward, we again see a very high possibility for stocks and bonds to experience deep loss or drawdown in the next big correction. This big correction is not necessary the current one but for sure, there will be one. The correction magnitude can be as much as 50% to 70% or even bigger as markets have been at extremely elevated levels for so long. In fact, as each day goes by and markets are moving higher, the correction magnitude becomes even bigger. What's more, it's also becoming more and more likely that the next secular market cycle will be a decade-long inflation rampant bear market, punctuated with mini bull market in between, just like the one from 1970s to 1980s: 
S&P 500 return chart from 70s to 80s:
US 10 year Treasury bond yields: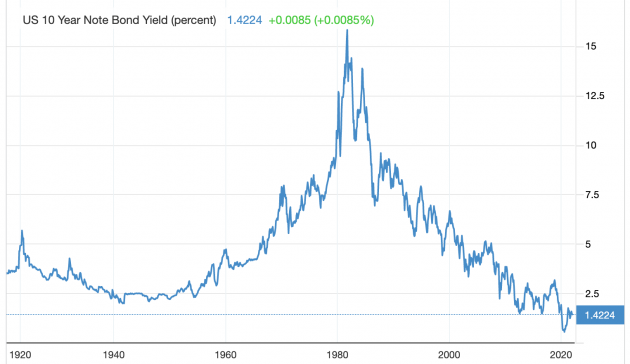 CPI history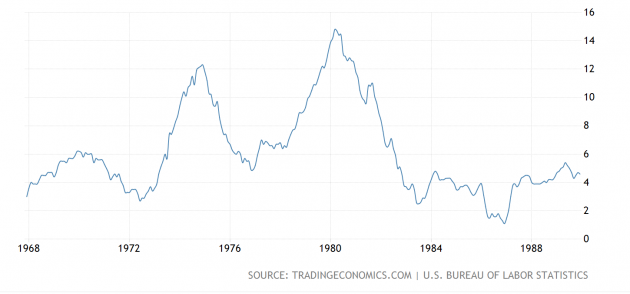 From the above charts, we can see that CPI (inflation rate) is not entirely correlated with 10 year Treasury rate. In an era where inflation is volatile: rising and falling quickly, bond vigilantes would push long term interest rates high enough until it has a clear long term visibility. Notice also that the Federal Reserve does not directly control long term interest rates that are mainly decided by market participants. 
At any rate, the above charts tell us that after a long period of a debt-ridden environment, it can take a long time to clear up the excessiveness. The long period of over extended financial markets and ultra low interest rates, coupled with an increasingly anti-globalization policies that will obviously dramatically reduce oversea low cost products and services ( and thus raising cost in developed countries) are all pointing to a very high possibility for us to face a long period of volatile stock and bond markets that will translate into secular bear markets for both. 
As usual, we have no conviction whatsoever on when this correction will happen. What we feel strongly is that investors should start to utilize a more active investment strategy such as MyPlanIQ's AAC or TAA that will be able to react to market cycle change and thus avoid large loss and capture some interim gains. We have a long road ahead. 
We remain cautious and advocate the following practice:
For strategic allocation (buy and hold) investors, ignore the current market behavior. Remember, as what we have emphasized numerous times, when you choose and commit to a strategic portfolio, you essentially know and commit that your investment horizon (or the time you need to utilize this capital) is 20 years or longer. As we pointed out, if your investments are those diversified (index) funds such as an S&P 500 index fund (VFINX, for example), you know your money is in some solid 'business' that eventually (20 years later) will deliver some reasonable returns. As long as you are comfortable with this thesis, you should sit tight and forget about the current gyration.
For tactical investors, again, you have to ignore the current market noise. Furthermore, you should follow your strategy rigorously, especially in a time like this. Human emotion, both optimistic and pessimistic, and human desire, both greedy and fearful, are your worst enemies. This has been shown to be true time and time again.
Stock valuation is still extremely high by historical standard. For the moment, we believe it's prudent to be cautious while riding on market uptrend. However how serious a correction might be, we have confidence in the US economy in the long term and thus in the stocks in aggregate. We just need to manage through interim losses carefully.  
We again would like to emphasize that for any new investor and new money, the best way to step into this kind of markets is through dollar cost average (DCA), i.e. invest and/or follow a model portfolio in several phases (such as 2 or 3 months) instead of the whole sum at one shot.
We wish everyone a happy holiday season. We all deserve one after this long pandemic ordeal!
Enjoy Newsletter
How can we improve this newsletter? Please take our survey 
–Thanks to those who have already contributed — we appreciate it.
Latest Articles
Disclaimer:
Any investment in securities including mutual funds, ETFs, closed end funds, stocks and any other securities could lose money over any period of time. All investments involve risk. Losses may exceed the principal invested. Past performance is not an indicator of future performance. There is no guarantee for future results in your investment and any other actions based on the information provided on the website including, but not limited to, strategies, portfolios, articles, performance data and results of any tools. All rights are reserved and enforced. By accessing the website, you agree not to copy and redistribute the information provided herein without the explicit consent from MyPlanIQ.