Re-balance Cycle Reminder All MyPlanIQ's newsletters are archived here.
Regular AAC (Asset Allocation Composite), SAA and TAA portfolios are always rebalanced on the first trading day of a month. the next re-balance will be on Monday May 3, 2021. 
As a reminder to expert users: advanced portfolios are still re-balanced based on their original re-balance schedules and they are not the same as those used in Strategic and Tactical Asset Allocation (SAA and TAA) portfolios of a plan.
The Best Active Fixed Income Funds Are Still Hard To Beat
We are a firm believer on low cost equity (stock) index funds. We believe that in the long term, it's extremely hard for an active equity (stock) fund to beat a well diversified low cost index fund such as those Vanguard index funds. However, we also stated numerous times that for fixed income (bond) investments, some of best active fixed income funds, especially those total return and/or intermediate term bond funds, are still better than index funds. 
In this newsletter, we take a look at PIMCO income fund (PONAX) and PIMCO investment grade bond fund PBDAX and compare them with some best index funds. 
PIMCO Income Fund
PIMCO income fund (PONAX) is one of three PIMCO funds in the candidate list for our total return bond fund portfolios (see What We Do > Income Investors Fixed Income Mutual Fund Portfolio section). Here is some description of the fund: 
The fund started in 2007, now more than 14 years old. 
The fund is managed by PIMCO's best fund managers: Dan Ivascyn and Alfred Murata. Ivacsyn became PIMCO's CIO after Bill Gross resigned in 2014. The pair were named Morningstar Fixed-Income Fund Manager of 2013.
The fund's investment talents include excellent analysts in mortgage, real-estate and other specialty finance securitization products. 
The fund can invest in sectors like RMBS (Residential Mortgage Backed Securities), CMBS (Commercial MBS) and international bonds, in addition to traditional corporate and government bonds. Furthermore, it can have exposure in high yield (junk or low quality) bonds. 
The fund can further use derivatives such as swaps to enhance its returns. 
The following is its allocations: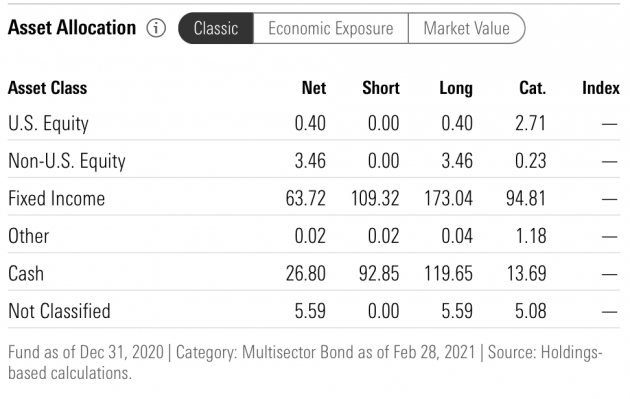 Its sector exposure: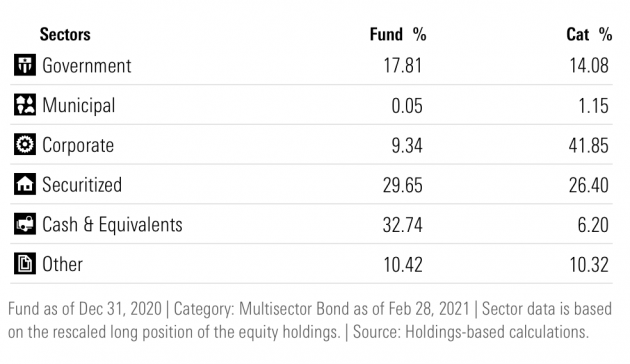 The fund has a very short duration/maturity (2.11 year effective duration and 3.78 year effective maturity).  This implies that the fund is mostly in short term bonds. Of course, the fund doesn't always invest in short term bonds: in other times, it actually held some sizable long term bonds. 
The performance
The fund has outperformed virtually all of the funds in the same category for the past 10 years:
PIMCO Income fund vs. other index bond funds (as of 4/23/2021):
*: NOT annualized. **: Since 4/2/2007
Some comments:
PIMCO Income had a large (13.4%) maximum drawdown during the low of the Covid pandemic in last year. This compares with VBIIX's 7.4% maximum drawdown. That's certainly a negative for the fund. 
On the other hand, the fund has done so much better than the other 3 funds for the past 5, 10 and 14+ years. 
We want to point out that DFTEX (DFA Intermediate-Term Extended Quality Institutional fund) is the best performing fund among all DFA fixed income funds (see this page). The fund is a low cost index fund (0.23% expense ratio) and invests mostly in investment grade corporate bond funds. 
Investment grade bond funds
To be apple to apple, one would argue that we should compare DFA fund DFTEX with an investment grade corporate bond fund. The following compares PIMCO investment grade bond fund (PBDAX) with the two best index funds: 
Portfolio Performance Comparison
Again, this PIMCO fund handily outperformed both DFA and Vanguard investment grade index funds by a good margin. 
To summarize, at the moment, some active managed fixed income bond funds are still outperforming their low cost index funds consistently. For investors who believe in these funds and don't mind holding them for several months (most brokerages have 3 month minimum holding period requirement), they can follow the portfolios in What We Do > Income Investors Fixed Income Mutual Fund Portfolio section. Otherwise, the ETF portfolio MPIQ ETF Fixed Income can be a very good alternative as it includes both some active bond funds and some index funds. At the moment, the slight underperformance of the ETF portfolio is mostly due to the missing ETF equivalents of the two PIMCO funds mentioned in the above. 
Market Overview
Compared with what we stated last week, S&P 500 companies earnings reports continue to impress so far: 
25% of the companies reported by last Friday, the blended earnings growth was 33.8%, compared with last week's 30.2% or 23.8% on March 31, 2021. 
Stocks were again in record territory last week. However, investors were spooked by the current administration's high capital tax and corporate income tax plans. As markets are not really long term forward looking, it's currently hard to predict what'll actually happen if the plans are indeed enacted. For now, as we stated before, the short term worry might be good news are not good enough — earnings that are not good enough will probably wreak havoc the current very extended markets with high valuation. 
We are again cautiously optimistic and reiterate the following practice: 
For strategic allocation (buy and hold) investors, ignore the current market behavior. Remember, as what we have emphasized numerous times, when you choose and commit to a strategic portfolio, you essentially know and commit that your investment horizon (or the time you need to utilize this capital) is 20 years or longer. As we pointed out, if your investments are those diversified (index) funds such as an S&P 500 index fund (VFINX, for example), you know your money is in some solid 'business' that eventually (20 years later) will deliver some reasonable returns. As long as you are comfortable with this thesis, you should sit tight and forget about the current gyration.
For tactical investors, again, you have to ignore the current market noise. Furthermore, you should follow your strategy rigorously, especially in a time like this. Human emotion, both optimistic and pessimistic, and human desire, both greedy and fearful, are your worst enemies. This has been shown to be true time and time again.
Stock valuation now reached another high. For the moment, we believe it's prudent to be cautious while riding on market uptrend. However how serious a correction might be, we have confidence in the US economy in the long term and thus in the stocks in aggregate. We just need to manage through interim losses carefully.  
We again would like to emphasize that for any new investor and new money, the best way to step into this kind of markets is through dollar cost average (DCA), i.e. invest and/or follow a model portfolio in several phases (such as 2 or 3 months) instead of the whole sum at one shot.
Enjoy Newsletter
How can we improve this newsletter? Please take our survey 
–Thanks to those who have already contributed — we appreciate it.
Latest Articles
Disclaimer:
Any investment in securities including mutual funds, ETFs, closed end funds, stocks and any other securities could lose money over any period of time. All investments involve risk. Losses may exceed the principal invested. Past performance is not an indicator of future performance. There is no guarantee for future results in your investment and any other actions based on the information provided on the website including, but not limited to, strategies, portfolios, articles, performance data and results of any tools. All rights are reserved and enforced. By accessing the website, you agree not to copy and redistribute the information provided herein without the explicit consent from MyPlanIQ.