Re-balance Cycle Reminder All MyPlanIQ's newsletters are archived here.
Regular AAC (Asset Allocation Composite), SAA and TAA portfolios are always rebalanced on the first trading day of a month. the next re-balance will be on Monday February 1, 2021. 
Please note: As of March 1, 2020, we officially phased out our old rebalance calendar for both SAA and TAA. They are now always rebalanced on the first trading day of a month. 
As a reminder to expert users: advanced portfolios are still re-balanced based on their original re-balance schedules and they are not the same as those used in Strategic and Tactical Asset Allocation (SAA and TAA) portfolios of a plan.
Industry ETFs And ARK ETFs Portfolios
We discussed our industry ETF rotation portfolio in newsletter June 29, 2020: Industry Sector ETF Rotation With Composite Momentum last year. We have tracked a Fidelity Select fund rotation portfolio for almost 10 years (see the portfolio on Advanced Strategies page). The industry ETFs portfolio is relatively new and now it's a good time to review this portfolio.
For reviews of our advanced US stock portfolios, see the list of newsletters: 
Industry ETFs Portfolio vs. Fidelity Select Funds Portfolio
Again, please read this previous article on the details of the two portfolios. As a reminder, we require the candidate ETFs in the portfolio to have at least $500 AUM (Asset Under Management). 
Let's first take a look at the latest performance: 
Portfolio Performance Comparison (as of 1/22/2021):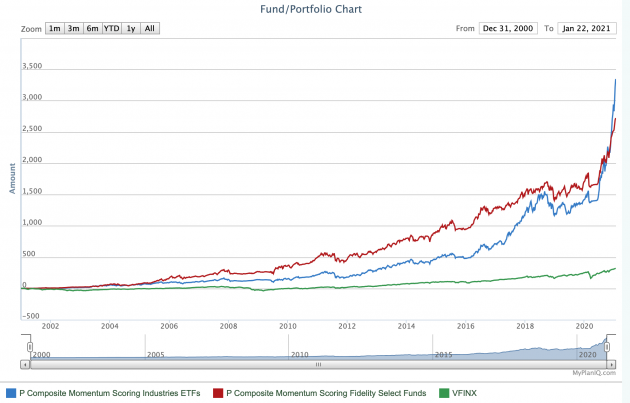 Detailed comparison info here >>
We can only say that the recent returns of the ETF portfolio are astonishing: it more than doubled in the last 12 months and Year To Date (YTD), it returned 17.9%. It handily outperformed the Fidelity Select Fund portfolio and doubled or tripled returns of VFINX (Vanguard S&P 500 index fund). 
The outperformance, of course, came mainly in the last several years, particularly in last year. A more careful examination reveals that the outperformance is mostly attributed to the ARK ETFs in the candidate fund list: they are ARKW (ARK Next Generation Internet), ARKK (ARK Innovation) and ARKG (ARK Genomic Revolution). In fact, at the moment, the ETF portfolio's two holdings are both ARK ETFs. 
ARK ETFs: Fad or Real Deals?
ARK ETFs have made fantastic returns for the past 5 years. This is not surprising as the several technology firms they invested have experienced some breathtaking growth: Amazon, for example, has upended the whole retail industries, along with logistics and supply chains. It also pioneered so called cloud computing and data services and now is the largest cloud service provider. Tesla, commonly known for its electric vehicles (EV), actually positions itself as the next generation energy company, as well as a major autonomous transportation (so called robo taxi) franchise. ARK ETFs were able to find and invest in these companies earlier on and have reaped huge benefits. 
Though the stock prices of many ARK companies are most likely way ahead of themselves at the moment, it's also admittedly true that some of these companies have or will command huge market shares. We especially like ARK's main investment philosophy — invest in innovation: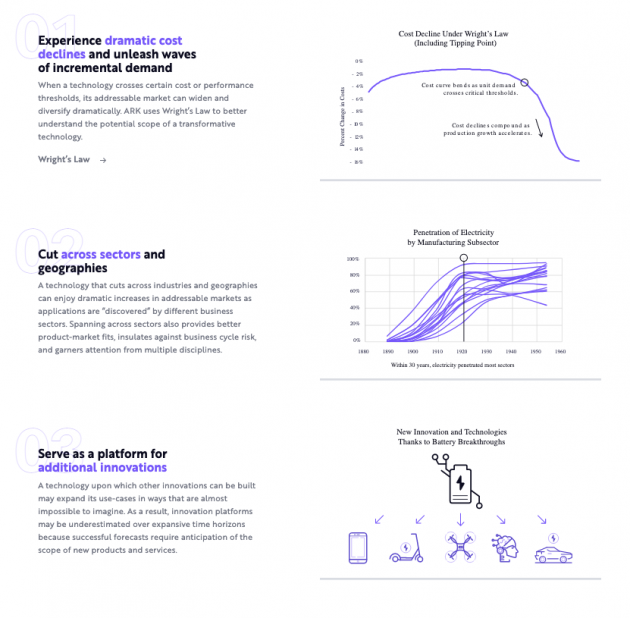 Or simply put, their target investments should have disruptive innovations that can dramatically slash cost, unleash huge demand across multiple sectors and geographies. What's more important, the innovations will serve as a platform to be utilized for wide industries and additional new markets. Such platform based businesses that entrench across multiple industries and nations certainly have large market shares in new or old markets. 
Having said that, the recent returns of ARK ETFs might be hard to repeat. Furthermore, as any technology investment, it's a huge hit and miss, trial & error method. Even though we believe ARK investment methodology makes a lot of sense, we have no clue on how much their investments will return. In fact, we admit that it's also very likely the investments might not result in good returns at all, let alone continuing their current hot trends. 
That's why we believe the best way to invest in these types of ETFs is to through a dynamic/tactical rotation strategy, employed in the above portfolios. Basically we hope the strategy will be able to capture and invest in high performing ETFs when they are performing really well while in the meantime, will monitor and switch to other investments/ETFs/funds or even cash when these winners falter. The portfolios have done precisely like that. For example, the above portfolios actually switched to IEI, iShares intermediate-term Treasury ETF from March to May last year when markets were tanking. 
New ETF additions
Well, as the recent frenzy in stock market has attracted huge capital inflow to technology ETFs, we now are adding the following ETFs to the candidate fund list of P Composite Momentum Scoring Industries ETFs:
ARKQ: ARK Autonomous Tech & Robotics. AUM $2.9 Billion
ARKF: ARK Fintech Innovation. AUM $2.7 Billion
ESPO: VanEck Video Gamings and E-Sport. AUM $840 Million
Finally, as ARK ETFs and many other tech ETFs have had huge gains recently, we want to caution investors as markets are very overextended right now. The following table shows how these ETFs have performed: 
We also want to emphasize that the industries ETF portfolio and ARK ETF portfolio are highly volatile and investors should employ them with some prudent allocations:  they should only allocate a small portion of their capital to these portfolios if they indeed decide to pursue. 
Market overview
Now we are in the midst of earnings reports for Q4 2020. So far, with 13% of the companies in the S&P 500 reporting actual results last Friday, Factset indicated that these companies have reported a very positive earning surprise over the beaten down earnings expectation. In fact, the blended earnings decline for the S&P 500 is -4.7%, compared with -9.2% expected on 12/31/2020. Though markets have been very extended, it does look like at the moment, investors are very euphoric as several favorable things are aligned together: better earnings, big stimulus and optimism about vaccination. 
Regardless, we reiterate the following practice: 
For strategic allocation (buy and hold) investors, ignore the current market behavior. Remember, as what we have emphasized numerous times, when you choose and commit to a strategic portfolio, you essentially know and commit that your investment horizon (or the time you need to utilize this capital) is 20 years or longer. As we pointed out, if your investments are those diversified (index) funds such as an S&P 500 index fund (VFINX, for example), you know your money is in some solid 'business' that eventually (20 years later) will deliver some reasonable returns. As long as you are comfortable with this thesis, you should sit tight and forget about the current gyration.
For tactical investors, again, you have to ignore the current market noise. Furthermore, you should follow your strategy rigorously, especially in a time like this. Human emotion, both optimistic and pessimistic, and human desire, both greedy and fearful, are your worst enemies. This has been shown to be true time and time again.
Stock valuation now reached another high. For the moment, we believe it's prudent to be cautious while riding on market uptrend. However how serious a correction might be, we have confidence in the US economy in the long term and thus in the stocks in aggregate. We just need to manage through interim losses carefully.  
We again would like to emphasize that for any new investor and new money, the best way to step into this kind of markets is through dollar cost average (DCA), i.e. invest and/or follow a model portfolio in several phases (such as 2 or 3 months) instead of the whole sum at one shot.
Enjoy Newsletter
How can we improve this newsletter? Please take our survey 
–Thanks to those who have already contributed — we appreciate it.
Latest Articles
Disclaimer:
Any investment in securities including mutual funds, ETFs, closed end funds, stocks and any other securities could lose money over any period of time. All investments involve risk. Losses may exceed the principal invested. Past performance is not an indicator of future performance. There is no guarantee for future results in your investment and any other actions based on the information provided on the website including, but not limited to, strategies, portfolios, articles, performance data and results of any tools. All rights are reserved and enforced. By accessing the website, you agree not to copy and redistribute the information provided herein without the explicit consent from MyPlanIQ.