Re-balance Cycle Reminder All MyPlanIQ's newsletters are archived here.
Regular AAC (Asset Allocation Composite), SAA and TAA portfolios are always rebalanced on the first trading day of a month. the next re-balance will be on Wednesday September 1, 2021. 
As a reminder to expert users: advanced portfolios are still re-balanced based on their original re-balance schedules and they are not the same as those used in Strategic and Tactical Asset Allocation (SAA and TAA) portfolios of a plan.
Style ETF Portfolio Review
In this newsletter, we continue to review portfolios listed on Advanced Strategies. We take a look at style rotation portfolio P Composite Momentum Scoring Style ETFs. 
Nine style ETFs
Traditionally, the nine style ETFs have been the most popular classification of (US) stocks proposed by Morningstar: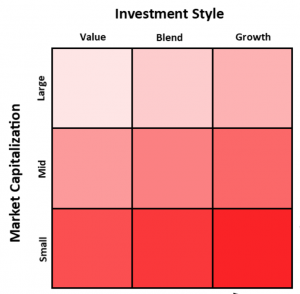 This classification has been extended to many smart factors such as momentum, quality and low volatility (see previous week's newsletter). However, it's still a very useful main classification to study and invest in stocks. The key here is to look at the intersection from both size (large, mid size and small) and growth-blend-value. 
Let's first take a look at the recent returns for these styles (see 360° Market Overview):
as of 08/20/2021
| Description | Symbol | 4 Weeks | 13 Weeks | 52 Weeks | Trend Score |
| --- | --- | --- | --- | --- | --- |
| Russell Largecap Growth | IWF | -0.44% | 12.31% | 30.12% | 10.97% |
| Russell Midcap Value | IWS | 0.73% | 0.37% | 42.88% | 10.45% |
| Russell Largecap Index | IWB | 0.44% | 6.59% | 33.29% | 10.39% |
| Russell Smallcap Value | IWN | 0.06% | -3.5% | 53.72% | 10.37% |
| Russell Midcap Indedx | IWR | 0.1% | 3.41% | 39.45% | 9.81% |
| Russell Largecap Value | IWD | 1.34% | 0.93% | 36.49% | 9.8% |
| Russell Midcap Growth | IWP | -1.02% | 9.48% | 32.59% | 8.59% |
| Russell Smallcap Index | IWM | -1.84% | -2.02% | 40.64% | 6.02% |
| Russell Smallcap Growth | IWO | -3.47% | -0.26% | 28.73% | 2.19% |
Though large cap recently took up more top positions in the trend score rankings, one can see that Smallcap Value and Midcap Value have the highest 52-week returns. The large cap growth (IWF) is again ranked on top, somewhat confirming our subjective observation in June 28, 2021: Resuming Growth Trends Chaotically?. that stated it's likely large cap growth and/or growth stocks will become favorite again in the last leg of this bull market. 
The other useful feature to look at the style classified stocks is to look at the size-based equal weight index/ETFs to gauge how the general market is doing: 

The above chart shows three equal weight ETFs's returns: RSP: S&P 500 equal weight ETF (thus, equal weights among 500 largest stocks), EWMC: equal weight mid cap stocks and EWSC: equal weight small cap stocks. What we see from the above is that up to now, even though S&P 500 (SPY) made all time highs recently (as RSP too), one can see that both mid and small cap stock equal weight indexes haven't been able to surpass their highs made on 6/8/2021. The above doesn't show serious deterioration for both EWMC and EWSC but it does signal some caution. 
Style ETF portfolios: outperforming S&P 500 index in a long term
We want to take a look at the recent underperformance of the style ETF rotation portfolios listed on Advanced Strategies. The purpose here is not to advocate these portfolios as we believe there are better alternatives such as the one we reviewed last week (August 16, 2021: Smart Factor ETFs Review). The purpose is to show even at the low of these portfolios, they are actually still outperforming S&P 500 index (SPY) in a long term. 
Let's look at the returns: 
Portfolio Performance Comparison (as of 8/20/2021):

Detailed chart link >>
Note P Composite Momentum Scoring Style ETFs is the portfolio that utilizes our momentum scoring strategy (similar to how we calculate trend scores in (Asset Allocation Composite (AAC) and Tactical Asset Allocation(TAA)) to rotate among the nine style ETFs and picks top most ranked ETF each month to invest. However, it also uses our market composite indicator to decide whether to invest in the intermediate Treasury index fund (VFITX or IEF) when stocks are under stress. P Momentum Scoring Style ETFs and Treasuries, on the other hand, just relies on relative momentum scores among the nine style ETFs and the intermediate Treasury fund to pick top fund each month to invest. The first portfolio represents a good improvement over the second portfolio. 
What the above table and chart show us is that for the past 20 years, the two portfolios have outperformed both indexes (S&P 500 and total stock market index) in terms of overall returns. Furthermore, one can see that the two portfolios did avoid the large losses in both 2000 and 2008 bear markets. 
On the other hand, we can see that the two portfolios underperformed markets by some big margins this year: 10% or more. From the above interactive chart, if you look at YTD time interval, you would find that the two portfolios peaked on 2/9/2021 and haven't been able to recover back. 
What the above examples (and numerous other examples/portfolios since we started our service 10 plus years ago) show us is that a long term performing portfolio can underperform markets for some time, in fact, the underperformance can last for quite some time. In the above example, we can see the two portfolios underperformed for the last 1, 3, 5 and 10 years. 
Market Overview
Stocks were a little weak last week. Investors first reacted to Fed's possible tapering of its loose monetary policy) with small sell off but that was not enough to sway the bullish sentiment. Furthermore, Covid-19 delta variant induced surge seemed to peak last week. Now markets seem to be back to its all time high mode, it quickly recovered. 
We have no idea how long this will last and the best way to take advantage of the market behaviors is to follow our present strategies. 
We reiterate our caution on the current markets and advocate the following practice:
For strategic allocation (buy and hold) investors, ignore the current market behavior. Remember, as what we have emphasized numerous times, when you choose and commit to a strategic portfolio, you essentially know and commit that your investment horizon (or the time you need to utilize this capital) is 20 years or longer. As we pointed out, if your investments are those diversified (index) funds such as an S&P 500 index fund (VFINX, for example), you know your money is in some solid 'business' that eventually (20 years later) will deliver some reasonable returns. As long as you are comfortable with this thesis, you should sit tight and forget about the current gyration.
For tactical investors, again, you have to ignore the current market noise. Furthermore, you should follow your strategy rigorously, especially in a time like this. Human emotion, both optimistic and pessimistic, and human desire, both greedy and fearful, are your worst enemies. This has been shown to be true time and time again.
Stock valuation is still extremely high by historical standard. For the moment, we believe it's prudent to be cautious while riding on market uptrend. However how serious a correction might be, we have confidence in the US economy in the long term and thus in the stocks in aggregate. We just need to manage through interim losses carefully.  
We again would like to emphasize that for any new investor and new money, the best way to step into this kind of markets is through dollar cost average (DCA), i.e. invest and/or follow a model portfolio in several phases (such as 2 or 3 months) instead of the whole sum at one shot.
Enjoy Newsletter
How can we improve this newsletter? Please take our survey 
–Thanks to those who have already contributed — we appreciate it.
Latest Articles
Disclaimer:
Any investment in securities including mutual funds, ETFs, closed end funds, stocks and any other securities could lose money over any period of time. All investments involve risk. Losses may exceed the principal invested. Past performance is not an indicator of future performance. There is no guarantee for future results in your investment and any other actions based on the information provided on the website including, but not limited to, strategies, portfolios, articles, performance data and results of any tools. All rights are reserved and enforced. By accessing the website, you agree not to copy and redistribute the information provided herein without the explicit consent from MyPlanIQ.