Re-balance Cycle Reminder All MyPlanIQ's newsletters are archived here.
Regular AAC (Asset Allocation Composite), SAA and TAA portfolios are always rebalanced on the first trading day of a month. the next re-balance will be on Monday August 2, 2021. 
As a reminder to expert users: advanced portfolios are still re-balanced based on their original re-balance schedules and they are not the same as those used in Strategic and Tactical Asset Allocation (SAA and TAA) portfolios of a plan.
Take The 'Best' Balance Fund's Challenge
We have long admired, discussed and compared T.Rowe Price Capital Appreciation Fund (PRWCX). It has some of the best return records among balance funds. It's considered the 'best' balance fund. In this newsletter, we revisit our favorite topic on how to outperform this 'best' fund. . 
Review of T.Rowe Price Capital Appreciation Fund
Let's quickly review PRWCX. Morningstar classifies it into "US Fund Allocation – 50% to 70% Equity" category. Basically, it usually invests in 50% to 70% in US equities and the rest in US bonds. Its stock investments are mostly large cap US stocks. It mainly invests in stocks that have Growth at A Reasonable Price (GARP) property. This is also our favorite stock investing strategy. It can even utilize covered call options to enhance returns. In addition, the fund maintains its edge by shrewdly investing in convertible bonds that has become one of main contributors to its stellar returns. 
The fund receives Morningstar Analyst Rating of Gold. Its manager is David Giroux, who has been with the fund since 2006, 15 years ago. Here is what the Morningstar's analyst has to say on the fund: 
'David Giroux has amassed one of the most impressive records in the asset-allocation space. During the past 10 calendar years, he placed in the top quartile of the allocation — 50% to 70% equity Morningstar Category every year and beat a costless 60% S&P 500/40% Bloomberg Barclays U.S. Aggregate Bond Index benchmark in all but one year.

Giroux's ability to identify mispricing across a wide array of asset classes–and act quickly when he does–is partly to thank for that record. Equities have ranged from 57% to 72% of assets, with Giroux upping risk after the drawdowns of 2008, 2011, 2018, and early 2020, and scaling back when markets become overheated, as in 2007 and late 2019. He opportunistically manages the rest of the portfolio, which can include high-yield bonds, leveraged loans, investment-grade credit, Treasuries, cash, and covered calls, in a similar way.'
As of March 31, 2021, the fund's stock exposure was about 64% and the rest was either in bonds or cash. 
Here is how it compares with some excellent or well known balance funds: 
Balance Fund Returns Comparison (as of 7/16/2021):
The comparison chart that spans from 3/2002 to now (more than 19 years) during which all funds had data: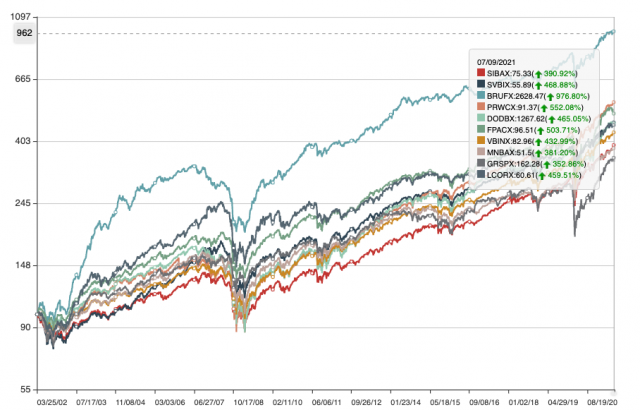 From the above table, other than PRWCX, only one fund SVBIX (JHancock Balanced I) managed to outperform VBINX, the 60% stock/40% bond index fund in the trailing 15 years. It's actually really tough to beat a simple boring and dumb index fund!
Notice also if we stretch the comparison period all the way to 3/25/2002, BRUFX (Bruce Fund) did way better. This fund hasn't been able to done as well as PRWCX for the past 15 years or so as its stock investing is more focused on value stocks that haven't done as well as growth stocks. In fact, if one extends the horizon aeven further to 1996, BRUFX actually did even better. You are encouraged to use MyPlanIQ's comparison and/or chart to make such a comparison. 
Compare MyPlanIQ model portfolios with PRWCX
Let's move on to take a look at how MyPlanIQ model portfolios are compared with PRWCX. Our main comparison is to our ETF moderate portfolio.For further comparison, we even include MPIQ ETF Allocation All Stocks that can invest up to 100% in stocks. As we soon will see, this portfolio actually has less risk than PRWCX. 
In addition, as a reference, we also include 50 To 70 Percent Tactical Balanced Portfolio that was mentioned in February 11, 2019: "Best" Balanced Fund And Portfolios Revisited. 
This portfolio consists of two portfolios: 
The Bond portfolio uses our total return bond fund portfolio (in this case, it's Schwab brokerage specific. You can find other portfolios on our Income Investors page). 
The stock portfolio is a simple 200d S&P 500 index (VFINX) moving average timing portfolio. You can replace this portfolio with many others such as  P Composite Momentum Market VFINX, P Composite Momentum Scoring Global Risk Assets(on Advanced Strategies) or  MPIQ ETF Allocation All Stocks.
Portfolio Performance Comparison (as of 7/16/2021):
Max Drawdown: maximum loss from a peak to its subsequent trough. 
The last 15 year return chart: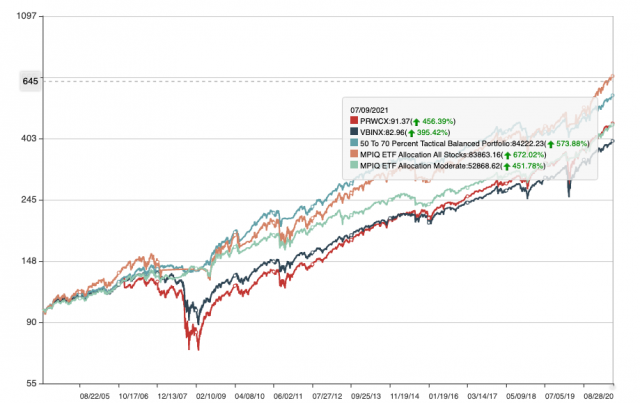 For the past 15 years, our portfolios have done better than PRWCX. Notice that our ETF portfolios use some bond ETFs that have less than 15 year history. So we would expect the 15 year returns data for the two ETF portfolios could have been higher, making the ETF portfolios comparable or better than 50 To 70 Percent Tactical Balanced Portfolio. 
The other important factor is that MyPlanIQ portfolios's maximum drawdowns (one important risk metric) are only 1/3 to 1/2 of PRWCX. This makes our portfolios much suitable to investors who are concerned about risk. 
As we are now approaching to a possible secular peak or at least the levels of stock markets are at some very high levels, we are feeling more and more confident to take the challenge to outperform this best balance fund in the coming years. In fact, our goal is to achieve comparable or better returns with much lower risk (maximum drawdown). Our confidence stems from the two key components: 
Tactical stock/bond allocation to avoid large loss. Using our  Asset Allocation Composite (AAC)  we can dynamically reduce stock exposure to avoid large loss. 
Better bond fund selection to boost fixed income portion returns. 
Market Overview
Well it doesn't take long for stocks to experience some scare: US stocks just had worst one day drop since last October. Investors were alert that the number of Covid-19 cases caused by delta variant is rising fast in the US again. As we mentioned previously, we expect to see more and more such unstable volatile market swings as the effects of huge stimulus are waning. On the 'bright' side, it's now official that the US only experienced a two month (March and April 2020) recession last year, based on the National Bureau of Economic Research, the official arbiter on economic recession. This means the recession is the shortest in US history and also means we have been in an expansion mode for a while now. 
Earnings wise, based on Factset, S&P 500 companies were expected to report 63.3% year over year growth on June 30, 2021. Last week, after 8% of companies reporting, the blended (actual and estimated) growth was raised to 69.3%. If this holds, it would mark the highest year-over-year earnings growth rate since Q4 2009. 
We are again cautiously optimistic and reiterate the following practice: 
For strategic allocation (buy and hold) investors, ignore the current market behavior. Remember, as what we have emphasized numerous times, when you choose and commit to a strategic portfolio, you essentially know and commit that your investment horizon (or the time you need to utilize this capital) is 20 years or longer. As we pointed out, if your investments are those diversified (index) funds such as an S&P 500 index fund (VFINX, for example), you know your money is in some solid 'business' that eventually (20 years later) will deliver some reasonable returns. As long as you are comfortable with this thesis, you should sit tight and forget about the current gyration.
For tactical investors, again, you have to ignore the current market noise. Furthermore, you should follow your strategy rigorously, especially in a time like this. Human emotion, both optimistic and pessimistic, and human desire, both greedy and fearful, are your worst enemies. This has been shown to be true time and time again.
Stock valuation is still extremely high by historical standard. For the moment, we believe it's prudent to be cautious while riding on market uptrend. However how serious a correction might be, we have confidence in the US economy in the long term and thus in the stocks in aggregate. We just need to manage through interim losses carefully.  
We again would like to emphasize that for any new investor and new money, the best way to step into this kind of markets is through dollar cost average (DCA), i.e. invest and/or follow a model portfolio in several phases (such as 2 or 3 months) instead of the whole sum at one shot.
Enjoy Newsletter
How can we improve this newsletter? Please take our survey 
–Thanks to those who have already contributed — we appreciate it.
Latest Articles
Disclaimer:
Any investment in securities including mutual funds, ETFs, closed end funds, stocks and any other securities could lose money over any period of time. All investments involve risk. Losses may exceed the principal invested. Past performance is not an indicator of future performance. There is no guarantee for future results in your investment and any other actions based on the information provided on the website including, but not limited to, strategies, portfolios, articles, performance data and results of any tools. All rights are reserved and enforced. By accessing the website, you agree not to copy and redistribute the information provided herein without the explicit consent from MyPlanIQ.