Re-balance Cycle Reminder All MyPlanIQ's newsletters are archived here.
Regular AAC (Asset Allocation Composite), SAA and TAA portfolios are always rebalanced on the first trading day of a month. the next re-balance will be on Monday August 2, 2021.
As a reminder to expert users: advanced portfolios are still re-balanced based on their original re-balance schedules and they are not the same as those used in Strategic and Tactical Asset Allocation (SAA and TAA) portfolios of a plan.
Ultra Short Term Bond 'Money Market' Portfolio And Banking
For quite some time, we have advocated using some tactical ultra short term bond fund rotation portfolios as money market fund substitutes. We also pointed out that most people can carry out their normal banking activities within their brokerage accounts. Specifically, we discussed these in the two newsletters:
In this newsletter, we want to review this practice and also see how our ultra short term bond portfolio has performed.
'Banking' on a brokerage account
Basically, in a brokerage account that allows direct deposit and bill pay, one can accomplish most banking activities. As far as we know, both TD Ameritrade and Etrade brokerage accounts provide both direct deposit and bill pay functions. To be able to accept direct deposits from your regular pays, a brokerage account needs to have a checking account property that provides both routing and checking number. Both TD Ameritrade and Etrade brokerage accounts do have such properties. Notice these are not a normal bank account (such as Etrade Bank account), they are brokerage accounts. Using brokerage accounts directly saves a transfer between a brokerage and a bank account. For other brokerages, investors can setup bill pays in their bank accounts and then transfer money between a brokerage and a bank account through ACH or a much faster (instant) internal transfer (like between an Etrade brokerage and Etrade bank account). It's just an added layer for more hassle.
In addition to direct deposits and bill pay, the other two types of banking activities one can perform in a brokerage account are
Savings: higher yields than normal banks
Miscellaneous services like ATMs and check books etc.
We believe both TD Ameritrade and Etrade brokerage accounts do provide these services. The only missing one is personal loans or real estate mortgages. These can be done either from their related banks (now that TD Ameritrade is acquired by Schwab, for example, investors can try to get loans from Schwab banks). In reality, most people can get real estate mortgages from other banks through a broker. So this is really not an issue.
To summarize, one can practically utilize a brokerage account for almost all banking activities. You are encouraged to read March 15, 2021: Make Your Own Private Bank for more detailed discussions on other issues.
MyPlanIQ ultra bond portfolio as a 'money market' fund substitute
We introduced this MPIQ Ultra ST Bond ETFs portfolio whose purpose is to act like a 'money market' fund substitute. To be precise, this portfolio should be more treated as a 'prime money market' fund substitute as it can invest in corporate bond ETFs including those in the following table.
Portfolio Performance Comparison (as of 7/26/2021)
***: Data are from Vanguard site. This money market fund used to be a prime money market fund that can invest in both corporate and Treasury bonds and bills. Vanguard changed this fund to a Federal money market fund last year.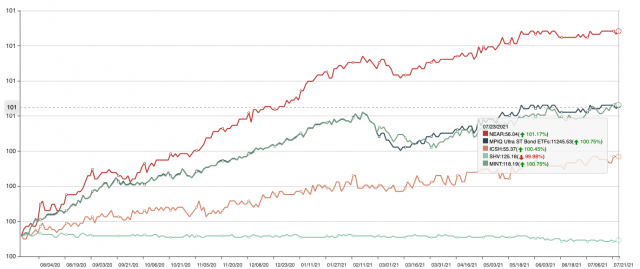 Comments:
MPIQ Ultra ST Bond ETFs utilizes MyPlanIQ AAC algorithm to rotate among the four candidate ETFs in the above table. It has a built-in mechanism to switch to Treasury bill ETF SHV or even CASH in the event of a stressful bond market.
The portfolio experienced a 'big' dip from 2/18/2021 to 3/12/2021. Using the above chart, one can easily find out the drop is -0.22% (click on the link and move your mouse to a point of a chart reveals the percentage gain/loss), still within the defined '0.5%' money market range (see previous newsletter on this concept).
On the other hand, SHV has lost 0.03% for the past one year or YTD (Year To Date). The current interest rate gyration has contributed to the loss.
Note: other than SHV, other ETFs NEAR, MINT and ICSH are not qualified to be as money market fund alone as they experienced drops much bigger than -0.5% in the past. For example, NEAR had a 'whopping' -10% interim loss in March 2020. MyPlanIQ's portfolio was able to avoid these distressed market periods and bypassed these large loss.
Finally, we want to make a special comment on Vanguard's decision to eliminate its prime market money market. Though Vanguard didn't put out some clear official reason to do so, we suspect that Vanguard feels that the current depressing yields of corporate short term bills/loans do not justify the risk for the meager yields over safe Treasury bills (or other government bills). Interestingly, we also see that Wells Fargo recently stopped issuing personal loans. We believe there are more and more anecdotal evidences to indicate that financial institutions are becoming more concerned and risk averse in the current froth markets.
In general, we would expect our portfolio could outperform a normal money market fund by 0.5% to 1% annually. Together with our longer term fixed income portfolios listed on Income Investor page, it provides a much better way to get most out of cash.
Market Overview
It's not surprising to see that growth and technology stocks are back in favor (see June 28, 2021: Resuming Growth Trends Chaotically?). US stocks back to make daily all time highs last week. Last week's S&P 500 blended earnings growth rate over a year ago was 74.2%, compared with 69.3% two weeks ago and 63.3% expected on June 30, 2021 (see Factset). Companies are reporting better than expected earnings and that propelled stocks to record territory.
However, we do see that the rise is somewhat uneven. We'll look at this in more details in a future newsletter. For now, we'll just enjoy the ride with caution.
We are again cautiously optimistic and reiterate the following practice:
For strategic allocation (buy and hold) investors, ignore the current market behavior. Remember, as what we have emphasized numerous times, when you choose and commit to a strategic portfolio, you essentially know and commit that your investment horizon (or the time you need to utilize this capital) is 20 years or longer. As we pointed out, if your investments are those diversified (index) funds such as an S&P 500 index fund (VFINX, for example), you know your money is in some solid 'business' that eventually (20 years later) will deliver some reasonable returns. As long as you are comfortable with this thesis, you should sit tight and forget about the current gyration.
For tactical investors, again, you have to ignore the current market noise. Furthermore, you should follow your strategy rigorously, especially in a time like this. Human emotion, both optimistic and pessimistic, and human desire, both greedy and fearful, are your worst enemies. This has been shown to be true time and time again.
Stock valuation is still extremely high by historical standard. For the moment, we believe it's prudent to be cautious while riding on market uptrend. However how serious a correction might be, we have confidence in the US economy in the long term and thus in the stocks in aggregate. We just need to manage through interim losses carefully.
We again would like to emphasize that for any new investor and new money, the best way to step into this kind of markets is through dollar cost average (DCA), i.e. invest and/or follow a model portfolio in several phases (such as 2 or 3 months) instead of the whole sum at one shot.
Enjoy Newsletter
How can we improve this newsletter? Please take our survey
–Thanks to those who have already contributed — we appreciate it.
Latest Articles
Disclaimer:
Any investment in securities including mutual funds, ETFs, closed end funds, stocks and any other securities could lose money over any period of time. All investments involve risk. Losses may exceed the principal invested. Past performance is not an indicator of future performance. There is no guarantee for future results in your investment and any other actions based on the information provided on the website including, but not limited to, strategies, portfolios, articles, performance data and results of any tools. All rights are reserved and enforced. By accessing the website, you agree not to copy and redistribute the information provided herein without the explicit consent from MyPlanIQ.