Re-balance Cycle Reminder All MyPlanIQ's newsletters are archived here.
Regular AAC (Asset Allocation Composite), SAA and TAA portfolios are always rebalanced on the first trading day of a month. the next re-balance will be on Monday October 3, 2022.
As a reminder to expert users: advanced portfolios are still re-balanced based on their original re-balance schedules and they are not the same as those used in Strategic and Tactical Asset Allocation (SAA and TAA) portfolios of a plan.
Factor ETFs Review
We have monitored and utilized factor ETFs for our asset allocation portfolios. See, for example, November 4, 2019: Factor ETF Rotation In this newsletter, we review major factor ETFs.
Latest performance
Portfolio Performance Comparison (as of 9/12/2022):
From the above table, we see that Value (VTV) and Minimum Volatility (USMV) have outperformed S&P 500 (SPY). Value stocks have been especially strong in the bear market so far. In fact, it now has a positive trend score (see 360° Market Overview for large cap value style score).
Quality stocks (QUAL) has done worse recently. This is because this ETF has invested in many high growth large tech stocks as these tech companies have had high profitability and high profit margins for the past decade. However, they also got hit harder in the latest market rout.
US Equity Style Trend 09/09/2022
| Description | Symbol | 1 Week | 4 Weeks | 52 Weeks | Trend Score |
| --- | --- | --- | --- | --- | --- |
| Russell Largecap Value | IWD | 3.7% | -3.53% | -0.4% | 0.26% |
| Russell Midcap Value | IWS | 4.29% | -3.94% | -1.95% | -0.1% |
| Russell Midcap Indedx | IWR | 4.83% | -4.22% | -9.74% | -1.13% |
| Russell Largecap Index | IWB | 3.91% | -4.81% | -8.44% | -1.31% |
| Russell Largecap Growth | IWF | 4.09% | -6.07% | -15.7% | -2.71% |
| Russell Smallcap Value | IWN | 3.33% | -7.12% | -5.44% | -2.74% |
| Russell Midcap Growth | IWP | 5.67% | -4.94% | -23.14% | -2.87% |
| Russell Smallcap Index | IWM | 4.06% | -6.47% | -13.87% | -3.04% |
| Russell Smallcap Growth | IWO | 4.83% | -5.82% | -22.03% | -3.14% |
Though none of the factor ETFs have outperformed the broad base S&P 500 index (SPY) for the past 5 years (and likely since these ETFs' inception), these indexes do have good enough historical performance based on MSCI. Here are some of these from MSCI as of August 31, 2022.
MSCI Quality Index (QUAL tracks):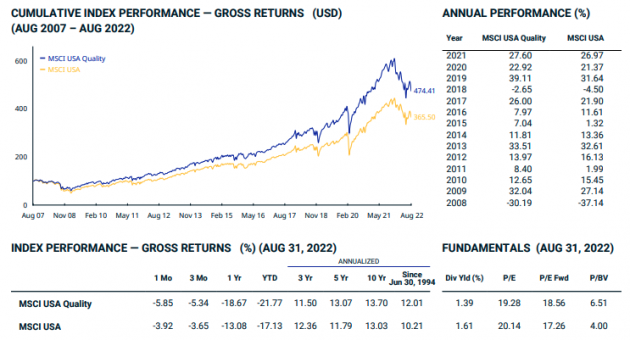 MSCI USA Momentum Index (MTUM tracks):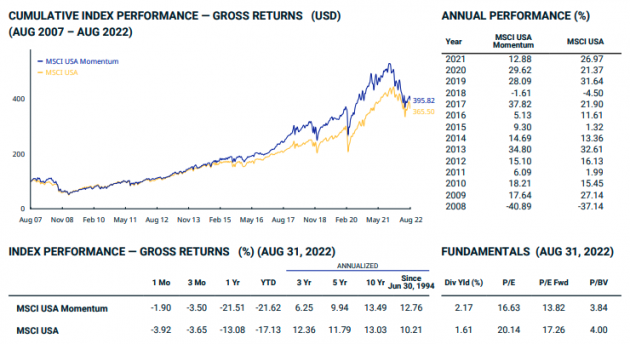 MSCI USA Value Index (VTV used doesn't track this, just as a reference):
MSCI USA Minimum Volatility (USMV tracks):
Size index (SIZE tracks)
Notice that MSCI size factor index assigns higher weights to stocks with lower market capitalization in the MSCI USA large and mid cap stock universe. It doesn't include small cap stocks.
For the past 10 year period (the charts in the above showed), Quality, momentum and minimum volatility have outperformed broad base index (MSCI USA) while value lagged behind. However, as we can see from the first table, value (VTV) has done much better for the past one year. This is exactly the diversification we are looking for.
Factor based portfolios
Now let's take a look at the portfolios using these factor ETFs and their comparison with some other multi-factor ETFs:
Portfolio Performance Comparison (as of 9/12/2022):
5 Year Chart:
Maximum Drawdown (peak to subsequent trough)
Detailed comparison for more data like maximum drawdown >>
Comments:
It's impressive that the several multi-factor ETFs such as LRGF (iShares Edge MSCI Multifactor USA ETF) have done well. In fact, LRGF actually did slightly better than P Composite Momentum Scoring Factor ETFs, the momentum rotation portfolio among the factor ETFs year to date (YTD).
Of course, so far, for the past 5 years, these multi-factor ETFs still underperformed our portfolio.
Of course, all of these ETFs suffered from much larger drawdown than our portfolio. For example LRGF had 36% maximum drawdown during the brief bear market in 2020, compared with 15% of our momentum portfolio in the same period. As for the latest bear market, we shall see what's going to happen in the coming months.
The recent performance of these multi-factor ETFs as well as the equal weight portfolio Multi-factor Value Momentum Quality Low Volatility has shown the value of diversification from these smart factor ETFs. It is noteworthy that in the current mild bear market, these ETFs have done well so far. On the other hand, if the current bear market continues, one could expect these ETFs will suffer from much bigger loss, just like in 2020.
Market overview
Well, stocks quickly recovered somewhat while bonds continued to weaken:

We note that year to date, bonds have not done much better than stocks (-10.4% of BND vs. -12.8% of SPY as of 9/12/2022). The well known 60/40 (60% stocks, 40% bonds) hasn't done much better than stocks. On a separate note, the so called risk parity funds such as Wealthfront Risk Parity Fund (WFRPX) has lost a whopping -20.9% this year! Not many places to hide so far!
Investors are hoping that inflation will come down rapidly. We caution that even if tomorrow's CPI number will come down a lot, it's still going to take a while for the current high interest rates to fully affect economy (for example, housing markets). We are not out of the woods yet, probably will be quite some way to go, in our opinion.
At the moment, we call for patience and stay the course. Our strategies will respond to market and economic conditions as time goes:
For strategic allocation (buy and hold) investors, ignore the current market behavior. Remember, as what we have emphasized numerous times, when you choose and commit to a strategic portfolio, you essentially know and commit that your investment horizon (or the time you need to utilize this capital) is 20 years or preferably much longer given the current high valuation. As we pointed out, if your investments are those diversified (index) funds such as an S&P 500 index fund (VFINX, for example), you know your money is in some solid 'business' that eventually (20 years later and preferably many more years later) will deliver some reasonable returns. As long as you are comfortable with this thesis, you should sit tight and forget about the current gyration.
For tactical investors, again, you have to ignore the current market noise. Furthermore, you should follow your strategy rigorously, especially in a time like this. Human emotion, both optimistic and pessimistic, and human desire, both greedy and fearful, are your worst enemies. This has been shown to be true time and time again.
Stock valuation has dropped. However, it is still high by historical standard. For the moment, we believe it's prudent to be extra cautious. However how serious a correction might be, we have confidence in the US economy in the long term and thus in the stocks in aggregate. We just need to manage through interim losses carefully.
We again would like to emphasize that for any new investor and new money, the best way to step into this kind of markets is through dollar cost average (DCA), i.e. invest and/or follow a model portfolio in several phases (such as 2 or 3 months) instead of the whole sum at one shot.
Enjoy Newsletter
How can we improve this newsletter? Please take our survey
–Thanks to those who have already contributed — we appreciate it.
Latest Articles
Disclaimer:
Any investment in securities including mutual funds, ETFs, closed end funds, stocks and any other securities could lose money over any period of time. All investments involve risk. Losses may exceed the principal invested. Past performance is not an indicator of future performance. There is no guarantee for future results in your investment and any other actions based on the information provided on the website including, but not limited to, strategies, portfolios, articles, performance data and results of any tools. All rights are reserved and enforced. By accessing the website, you agree not to copy and redistribute the information provided herein without the explicit consent from MyPlanIQ.