Re-balance Cycle Reminder All MyPlanIQ's newsletters are archived here.
For regular SAA and TAA portfolios, the next re-balance will be on Monday, March 18, 2019. You can also find the re-balance calendar for 2019 on 'Dashboard' page once you log in.
As a reminder to expert users: advanced portfolios are still re-balanced based on their original re-balance schedules and they are not the same as those used in Strategic and Tactical Asset Allocation (SAA and TAA) portfolios of a plan.
Please note that we now list the next re-balance date on every portfolio page.
"Best" Balanced Fund And Portfolios Revisited
Our previous newsletter December 3, 2018: Conservative Core Satellite Portfolio drew quite some interests from our readers. This is not surprising as many of our users are more risk conscious than an average investor. In the following, we are revisiting the fund and portfolios mentioned in the newsletter.
Core satellite 50 to 70 percent balanced portfolio
In the previous newsletter, we introduced Conservative Core Satellite portfolio that essentially can have at most 50% stock exposure, which belongs to conservative allocation category. In this newsletter, we introduce 50-70 Percent Core Satellite Balanced Portfolio, a balanced/moderate core satellite portfolio that can have at most 70% stock allocation. The portfolio consists of the following components:
DividendStocks VDIGX 10%
USREITs VGSIX 5%
TotalReturnBonds P_46880 30%
TacticalStocks P_61056 55%
where TacticalStocks P_61056 is P SMA 200d VFINX Total Return Bond As Cash Monthly that's been extensively discussed and listed on Advanced Strategies page while P_46880 is Schwab Total Return Bond. There are two possible allocation scenarios for this portfolio:
Scenario 1: 70% stocks and 30% bonds, when stocks are in an up trend
Dividend Stocks VDIGX 10%
US REITs VGSIX 5%
TacticalStocks VFINX 55%
TotalReturnBonds P_46880 30%
Scenario 2: 15% stocks and 85% bonds, when stocks are in a down trend
Dividend Stocks VDIGX 10%
US REITs VGSIX 5%
TotalReturnBonds P_46880 85%
Unlike Conservative Core Satellite mentioned in the previous newsletter, this portfolio's maximum risk asset exposure is matched against PRWCX (T. Rowe Price Capital Appreciation), the 'best' balanced mutual fund in the Morningstar 50 to 70 percent stock allocation category.
This portfolio always maintains at least 10% dividend stocks, 5% REITs and 30% bonds. It's thus a so called core satellite portfolio. A core satellite portfolio combines both strategic 'core' allocations and tactical 'satellite' allocations. The purpose is to make a tradeoff in both up and down markets: in a down market, strategic allocations can suffer from large loss while in a up market, often, tactical allocations might not be in sync with and even underperforms against broad market indexes. The combination can further reduce whipsaw losses often seen in a tactical portfolio in a range bound market.
Recent performance of the 'best' balanced portfolios and fund
The 'best' balanced fund PRWCX continued its impressive performance in 2018 and year to date. It's remarkable that this fund has done a good job consistently for the past 15 plus years:
Portfolio Performance Comparison (as of 2/8/2019):
**YTD: Year to Date
*MaxDD: Maximum Drawdown (Peak to a following trough)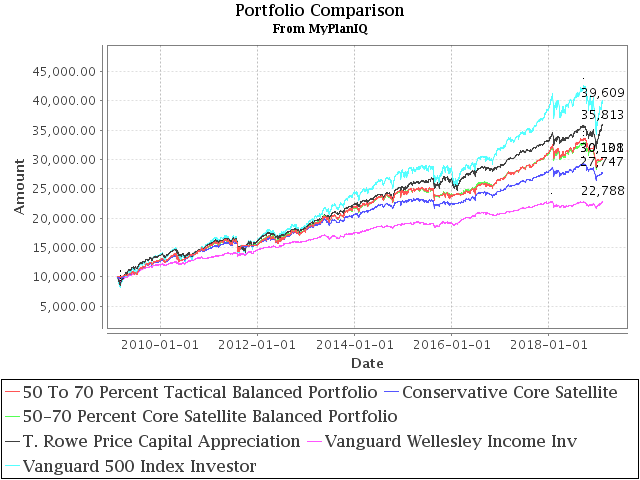 A few observations:
PRWCX's convertible bonds and quality growth stocks investment strategy did well in 2018: it returned 0.6% in 2018, better than our tactical portfolio's -3.4% and the core satellite's -4.1%. S&P 500 (VFINX), of course, lost -4.5% in 2018.
The core satellite portfolio's return closely matches the pure tactical one's: it slightly underperforms the tactical but it has a more smooth return curve in the past 10 years also. This comes with a slight increase of maximum drawdown.
On the other hand, even after taking the stellar US stocks' returns in the past 10 years into account, PRWCX is still behind our two balanced portfolios since 2001.
What's more, it has 41.8% maximum loss from a peak to a subsequent trough (so called maximum drawdown), compared with our portfolios' 13.8% and 14.8% respectively.
Since last quarter in 2018, the tactical portfolio has again underperformed up to date, mainly because of the sharp loss and the recent vertical rise. We should make our readers aware that if US stocks don't suffer from further deeper loss this year, the underperformance will probably continue. However, if indeed stocks will undergo deeper loss, our two portfolios will probably outshine the fund again because of their tactical avoidance of large stock loss.
The last point is an important one to remember: a tactical portfolio avoids some large loss with the expense of some interim underperformance. Investors should consider this as the cost of insurance.
Market overview
Stocks essentially stalled last week. Meanwhile, companies continued to report better than expected earnings for Q4, 2018 (blended growth 13.1% vs. a week ago's 12.2% while expecting worse future earnings (now expecting negative -1.7% Q1 2019's earnings growth vs. a week ago's -0.5%, 5% 2019 full year earnings growth vs. a week ago's 6.3%). See Factset report for more details. Again, the expectation continues to come down.
As stated last week, stocks are at a critical junction. Considering the recent over extended price rise and the still hefty stock valuation, we call for staying the course and being risk conscious.
In terms of investments, even after the recent retreat, U.S. stock valuation is still at a historically high level and a bigger correction is still waiting to happen. It is thus not a good time to take excessive risk. However, we remain optimistic about U.S. economy in the long term and believe much better investment opportunities will arise in the future.
We again would like to stress for any new investor and new money, the best way to step into this kind of markets is through dollar cost average (DCA), i.e. invest and/or follow a model portfolio in several phases (such as 2 or 3 months) instead of the whole sum at one shot.
Enjoy Newsletter
How can we improve this newsletter? Please take our survey
–Thanks to those who have already contributed — we appreciate it.
Latest Articles
RSS Feed
Disclaimer:
Any investment in securities including mutual funds, ETFs, closed end funds, stocks and any other securities could lose money over any period of time. All investments involve risk. Losses may exceed the principal invested. Past performance is not an indicator of future performance. There is no guarantee for future results in your investment and any other actions based on the information provided on the website including, but not limited to, strategies, portfolios, articles, performance data and results of any tools. All rights are reserved and enforced. By accessing the website, you agree not to copy and redistribute the information provided herein without the explicit consent from MyPlanIQ.