Re-balance Cycle Reminder All MyPlanIQ's newsletters are archived here.
For regular SAA and TAA portfolios, the next re-balance will be on Monday, March 24, 2014. You can also find the re-balance calendar for 2013 on 'Dashboard' page once you log in.
As a reminder to expert users: advanced portfolios are still re-balanced based on their original re-balance schedules and they are not the same as those used in Strategic and Tactical Asset Allocation (SAA and TAA) portfolios of a plan.
Please note that we now list the next re-balance date on every portfolio page.
Schwab Portfolios Review
In this newsletter, we review our Schwab specific portfolios.
Schwab is one of the major discount brokerages that offer a balanced service to its clients. In general, we find Schwab tends to attract large accounts and it thus emphasizes more on portfolio building instead of stock trading.
Similar to Fidelity, MyPlanIQ maintains the following customized investment plans and portfolios for Schwab:
Commission Free ETFs
Selected No Load No Transaction Fee Mutual Fund List. In addition to the Schwab OneSource Select Fund list, which is for general purpose, it also maintains a list called Income Select Mutual Fund list that is for income oriented investors.
Schwab Total Return Bond Portfolio
Schwab Conservative Allocation Mutual Fund Upgrade Portfolio
Schwab Commission Free ETF Portfolios
Like Fidelity, Schwab also offers a list of ETFs called Schwab ETF OneSource that can be traded commission free on Schwab's brokerage platform. It consists of 105 ETFs. Similar to Fidelity, Schwab initially offered a much smaller list of ETFs commission free. These ETFs were Schwab ETFs. The currently expanded list has a lot more ETFs and some of them are narrow sector based and very volatile. We consider these ETFs more for active traders than for portfolio building. Our algorithm will automatically filter out these ETFs.
Unlike Fidelity, Schwab's commission free ETFs use many Schwab's own broad base ETFs. These ETFs have very low cost and mostly they are comparable to Vanguard's ETFs. The following shows how the key ETFs are compared:
Schwab Broad Base ETFs vs. Vanguard ETFs Performance Comparison (as of 3/3/2014):
**YTD: Year to Date
See detailed year by year comparison >>
The above table shows SCHB (Schwab U.S. Broad Market ETF) is very comparable with VTI (Vanguard Total Stock Market ETF). SCHA (Schwab U.S. Small-Cap ETF) even did better than VB (Vanguard Small Cap ETF). However, its international and emerging market stock ETFs were slightly worse than Vanguard's. In fixed income, SCHZ (Schwab U.S. Aggregate Bond ETF) was actually also slightly better than BND (Vanguard Total Bond Market ETF) since its inception on 7/15/2011.
To summarize, even though Schwab ETFs have much shorter history, their ETFs have done comparably well, compared with the industry leader Vanguard's. However, overall, since these ETFs have lower volume, Vanguard ETFs are still a slightly better choice if one would choose. In general, on Schwab's platform, we believe Schwab Commission Free ETFs is a good plan for general purpose portfolios.
Schwab Mutual Fund Portfolios
Schwab maintains a list of suggested no load and no transaction fee mutual funds called OneSource Select List. Based on our experience, we found the list of funds have some excellent funds but the list does contain many funds that make no much sense. For example, the current list has PEOPX(Dreyfus S&P 500 Index) that is clearly not a good choice: it charges 0.5% expenses, compared with Vanguard 500 Index fund (VFINX)'s 0.17%. The fee difference clearly shows up in their performance comparison.
Schwab requires at least 3 month minimum holding period for a mutual fund to avoid the $49.95 short term trading fee (compared with 2 months imposed by Fidelity), regardless of the short term redemption period imposed by a fund.
In addition to Schwab OneSource Select List, we also maintain another plan Schwab Income Mutual Fund Select List. Even though Schwab claims that their income select list contains many income producing funds, we however find that only some funds offer higher yield but many of them are actually comparable to general broad base stock funds. This is evident by comparing the average yields of the portfolios Schwab Income Mutual Fund Select List Strategic Asset Allocation – Equal Weight Moderate and Schwab OneSource Select List Funds Strategic Asset Allocation – Equal Weight Moderate: they have similar yields in the last 3,5,10 year time frames! This is also true when comparing other similar portfolios (such as TAA or SAA Optimal).
In general, our portfolios using both Schwab mutual fund plans are performing poorer than similar types of portfolios in other brokerage plans such as Fidelity, ETrade or Vanguard.
The following shows how the portfolios from the two plans are compared:
Portfolio Performance Comparison
**YTD: Year to Date
Detailed year by year comparison >>
From the above table, we can see that portfolios from Schwab Income Mutual Fund Select List have lower drawdown than those from Schwab OneSource Select List.
Schwab Special Purpose Portfolios
We also maintain two special purpose portfolios for Schwab brokerage customers: Schwab Total Return Bond for fixed income investors and Schwab Conservative Fund Upgrade for conservative investors.
Similar to Fidelity Total Return Bond, Schwab Total Return Bond chooses one bond fund monthly (but still obeys Schwab's 3 month minimum holding period requirement) from a list of no load and on transaction fee total return bond funds that are available on Schwab. These funds' managers have won Morningstar's Fixed Income Manager of The Year at least once. The only exception we make here is that we also include DLTNX (Doubleline Total Return Bond N), whose manager Jeffrey Gundlach, we believe, is well qualified to be in this elite list.
The following table shows that this portfolio has done much better than PTTRX (PIMCO Total Return Instl) and general bond index fund VBMFX.
Portfolio Performance Comparison (as of 3/3/2014):
**YTD: Year to Date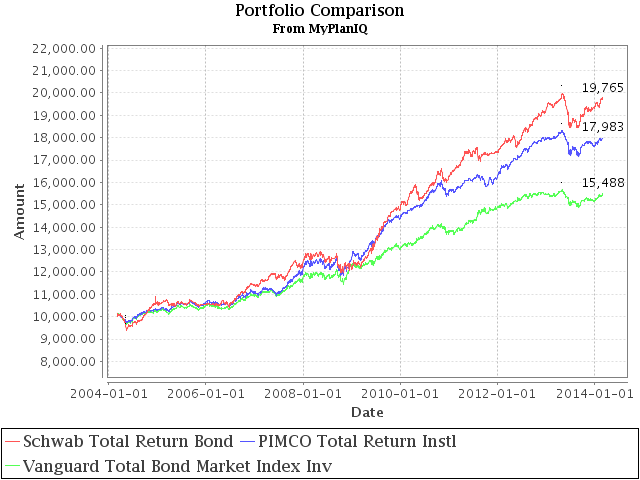 Similar to Fidelity Conservative Fund Upgrade, we also find less quality conservative allocation mutual fund choices in Schwab to our liking. However, even though the following table shows our Schwab Conservative Fund Upgrade has achieved less return than famous funds VWINX (Vanguard Wellesley Income Inv) or BERIX (Berwyn Income), it delivered much less maximum drawdown than these two funds (7.1% vs. 21.8% or 16.8% respectively):
Portfolio Performance Comparison (as of 3/3/2014):
We still view that for investors who are conservative and very risk averse, adding another level of loss protection by proactively reducing market exposure in a downturn is still a valuable option.
Schwab Composite Portfolios
Overall, based on the above discussion, we favor constructing a composite portfolio that consists of using Schwab commission free ETFs for the all equity (most aggressive) portion and using Schwab total return bond fund for the fixed income portion. We again encourage our readers to construct such a composite static portfolio to see how it has performed.
Market Overview
One noticeable development in major asset trends is that commodities and gold have crawled back. Specifically, the trend score of broad based commodity index ETF DBC is now positive and ranked higher than general bond index BND. Gold also has a positive trend score ranking now. In light of the recent events such as Ukraine and the stock market gyration, the strength of commodities again shows the benefit of diversification.
Furthermore, fixed income has been in particular strong. All of these are somewhat the signs of stress, though in general, we have not observed a broad base risk off mode.
However, we would like to remind our readers of the currently elevated stock valuation and price level. Caution is still called for. This is especially true for those we just begin to put money into stock markets.
For more detailed asset trend scores, please refer to 360° Market Overview.
We would like to remind our readers that markets are more precarious now than other times in the last 5 years. It is a good time and imperative to adjust to a risk level you are comfortable with right now. However, recognizing our deficiency to predict the markets, we will stay on course.
We again copy our position statements (from previous newsletters):
Our position has not changed: We still maintain our cautious attitude to the recent stock market strength. Again, we have not seen any meaningful or substantial structural change in the U.S., European and emerging market economies. However, we will let markets sort this out and will try to take advantage over its irrational behavior if it is possible.
We again would like to stress for any new investor and new money, the best way to step into this kind of markets is through dollar cost average (DCA), i.e. invest and/or follow a model portfolio in several phases (such as 2 or 3 months) instead of the whole sum at one shot.
Latest Articles
Enjoy Newsletter
How can we improve this newsletter? Please take our survey
–Thanks to those who have already contributed — we appreciate it.
RSS Feed
Disclaimer:
Any investment in securities including mutual funds, ETFs, closed end funds, stocks and any other securities could lose money over any period of time. All investments involve risk. Losses may exceed the principal invested. Past performance is not an indicator of future performance. There is no guarantee for future results in your investment and any other actions based on the information provided on the website including, but not limited to, strategies, portfolios, articles, performance data and results of any tools. All rights are reserved and enforced. By accessing the website, you agree not to copy and redistribute the information provided herein without the explicit consent from MyPlanIQ.