Re-balance Cycle Reminder All MyPlanIQ's newsletters are archived here.
For regular SAA and TAA portfolios, the next re-balance will be on Monday, October 14, 2019. You can also find the re-balance calendar for 2019 on 'Dashboard' page once you log in.
As a reminder to expert users: advanced portfolios are still re-balanced based on their original re-balance schedules and they are not the same as those used in Strategic and Tactical Asset Allocation (SAA and TAA) portfolios of a plan.
Please note that we now list the next re-balance date on every portfolio page.
Smart Factor ETFs
As ETFs and index funds have become more and more popular, so called factor based ETFs have been flooded to the ETF marketplace. In this newsletter, we briefly discuss these smart factor based indexes.
First, let's look at the existing (and old) style stock classification.
The nine box size, value and growth styles
The most widely used stock classification is the so called capitalization (size), value and growth style classification as follows:
| Size/Value-Growth | Growth | Blend | Value |
| --- | --- | --- | --- |
| Large | Large Growth (IWF) | Large Blend (IWB) | Large Value (IWD) |
| Middle | Midcap Growth (IWP) | Midcap Blend (IWR) | Midcap Value (IWS) |
| Small | Small Growth (IWO) | Small Blend (IWM) | Small Value (IWN) |
Academic studies have shown that the size and value are two major factors that play important roles in stocks' performance. This has been widely used in practice. Morningstar has used these nine combination boxes to classify a stock mutual fund or ETF for several decades.
On 360° Market Overview, MyPlanIQ tracks the trend scores of these nine style index ETFs (using Russell indexes) as follows:
US Equity Style Trend
as of 09/12/2019
| Description | Symbol | 1 Week | 4 Weeks | 13 Weeks | 26 Weeks | 52 Weeks | Trend Score |
| --- | --- | --- | --- | --- | --- | --- | --- |
| Russell Largecap Growth | IWF | -0.28% | 4.29% | 4.42% | 9.3% | 5.51% | 4.65% |
| Russell Largecap Index | IWB | 1.11% | 5.68% | 4.3% | 7.76% | 5.14% | 4.8% |
| Russell Largecap Value | IWD | 2.58% | 7.14% | 4.14% | 6.17% | 4.65% | 4.94% |
| Russell Midcap Growth | IWP | -1.23% | 2.95% | 1.94% | 7.81% | 5.68% | 3.43% |
| Russell Midcap Indedx | IWR | 1.2% | 5.65% | 3.0% | 6.45% | 5.0% | 4.26% |
| Russell Midcap Value | IWS | 2.92% | 7.44% | 3.7% | 5.43% | 1.5% | 4.2% |
| Russell Smallcap Growth | IWO | 2.92% | 5.57% | 2.26% | 2.55% | -6.78% | 1.3% |
| Russell Smallcap Index | IWM | 4.28% | 7.94% | 2.95% | 2.37% | -6.84% | 2.14% |
| Russell Smallcap Value | IWN | 5.82% | 10.53% | 3.72% | 2.2% | -6.95% | 3.07% |
Equity (stock) style boxes can be used for either strategic (buy and hold) allocations or dynamic (tactical) allocations. Many so called lazy or static portfolios tend to have some stock allocation in small cap value funds as it's been proved that for a long term, small size value stocks have the greatest returns. NOTE, however, the long term here should be interpreted as a period as long as or longer than 30 years as it's still possible for such stocks underperformed for an extended period of 20 years or longer).
An example for the dynamic rotation is the portfolio P Momentum Scoring Style ETFs and Treasuries listed on Advanced Strategies page. It selects two ETFs among the nine style candidate ETFs every month to invest.
Factor indexes
In the past 10 years or so, new research has uncovered that in addition to the well recognized value and size factors, there have been several other factors that can have sizable and/or excessive returns over a traditional market capitalization based index which is usually a large blend as the market cap weight favors stocks with large caps. Popular large blend stock indexes include Vanguard Total Stock Index (fund) or S&P 500 index.
Based on MSCI, a well known indexing company, there are six important factors in stocks:
Volatility: it's been shown that low volatility stocks tend to outperform a broad base market index.
Yield: it's been known that stocks with high yields tend to deliver similar returns with lower volatility. For stocks with rising yields, they can even deliver market beating returns in a long term.
Quality: we detailed this factor in July 15, 2019: Quality Stock Factor ETFs newsletter. We are a firm believer that companies with high quality earnings tend to outperform.
Momentum: we discussed momentum ETFs in our last newsletter September 9, 2019: Momentum Factor Stock ETFs.
Value
Size
MSCI shows how the six factors can outperform each other in different years: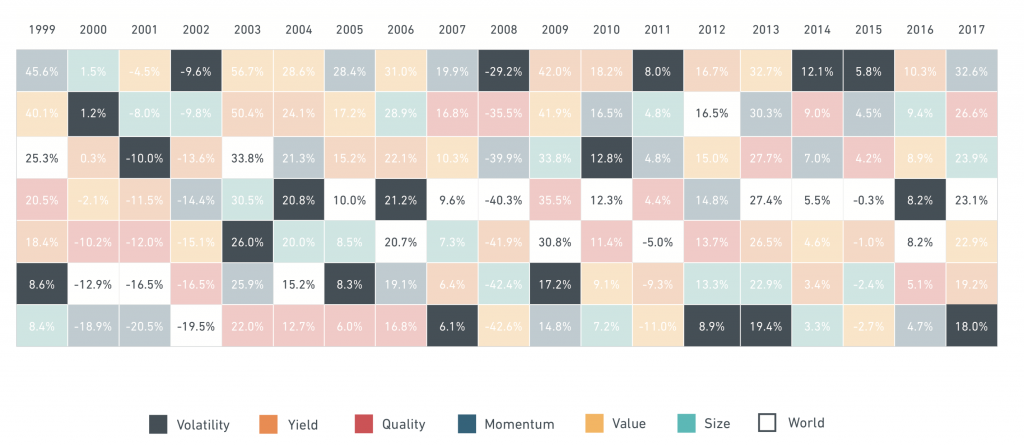 It's thus possible to utilize the performance dispersion to dynamically select a winner to invest. This is similar to style ETF rotation portfolio mentioned in the above. The following shows a portfolio that, at the end of every month, selects one ETF with top momentum score from a list of ETFs that represent the above six categories of factors. It does seem that this portfolio can deliver extra return over a market benchmark such as S&P 500 index fund.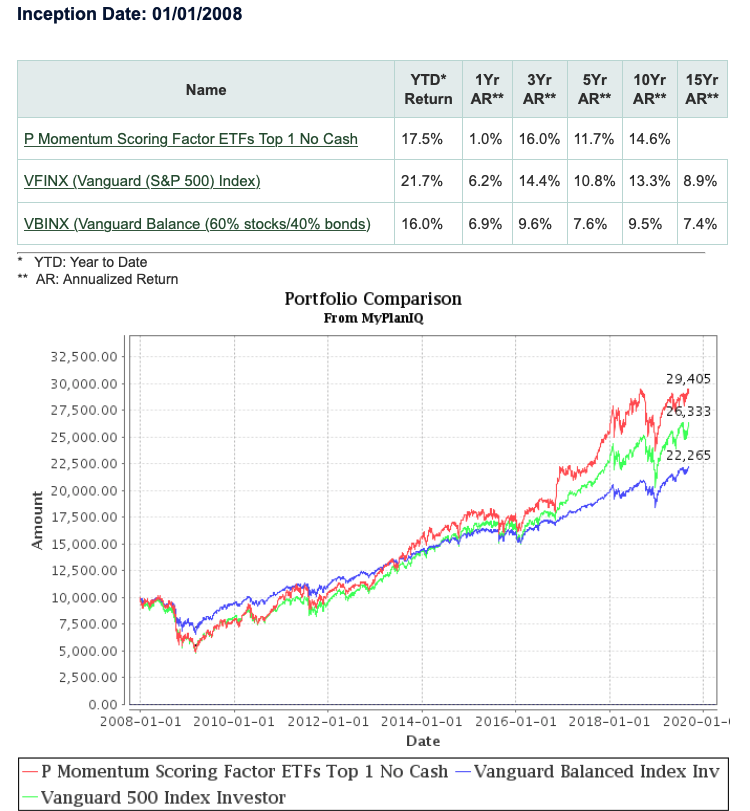 In future newsletters, we will discuss this portfolio in some more details and will continue our in-depth introduction to the other remaining factors (volatility, dividend and value).
Market overview
Markets underwent some interesting internal adjustments last week: while interest rates of long term bonds finally went on some mini correction, high growth stocks were indiscriminately sold off; value stocks and small cap stocks rose sharply. Investors are now rotating out of growth stocks and are flocking to value stocks. This might be the very first sign for investors to finally recognize slowing growth in the future and/or the expensiveness of high flying growth stocks. Meanwhile several potential black swan styles of events are lurking beneath the surface: middle east geopolitical shocks such as this weekend's oil field attack, the ever unpredictable trade war negotiation and the upcoming Federal Reserve's interest rate decision. We have no predictive power and can only rely on the current states (that show high stock valuation, slowing economy and the uncertainties including those mentioned above) to make plausible preparation for our investments. For now, we believe the best action is to stay the course.
For more detailed asset trend scores, please refer to 360° Market Overview.
In terms of investments, even after the recent retreat, U.S. stock valuation is still at a historically high level and a bigger correction is still waiting to happen. It is thus not a good time to take excessive risk. However, we remain optimistic about U.S. economy in the long term and believe much better investment opportunities will arise in the future.
We again would like to stress for any new investor and new money, the best way to step into this kind of markets is through dollar cost average (DCA), i.e. invest and/or follow a model portfolio in several phases (such as 2 or 3 months) instead of the whole sum at one shot.
Enjoy Newsletter
How can we improve this newsletter? Please take our survey
–Thanks to those who have already contributed — we appreciate it.
Latest Articles
RSS Feed
Disclaimer:
Any investment in securities including mutual funds, ETFs, closed end funds, stocks and any other securities could lose money over any period of time. All investments involve risk. Losses may exceed the principal invested. Past performance is not an indicator of future performance. There is no guarantee for future results in your investment and any other actions based on the information provided on the website including, but not limited to, strategies, portfolios, articles, performance data and results of any tools. All rights are reserved and enforced. By accessing the website, you agree not to copy and redistribute the information provided herein without the explicit consent from MyPlanIQ.