MyPlanIQ
Advanced Investors
As an expert or pro subscriber, you can access to the following advanced features. All of these features can be accessed on your dashboard.
Create your own plan and model portfolios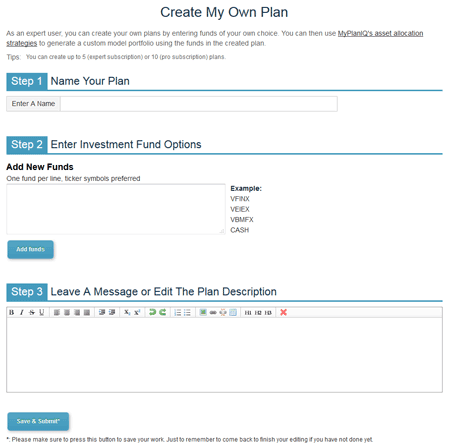 Enter your own ETFs and/or mutual funds to create your own investment plan. The tool then generates portfolios that use MyPlanIQ's Asset Allocation Composite, Strategic Asset Allocation or Tactical Asset Allocation strategies. You can back test these portfolios. Furthermore, we allow you to enter mutual fund restrictions such as minimum holding period and round trip limitation so that your portfolios are realistically investable.
Research and monitor advanced portfolios
MyPlanIQ provides comprehensive information for advanced investors to construct a sophisticated portfolio. You can visit the following pages
Use your own allocation templates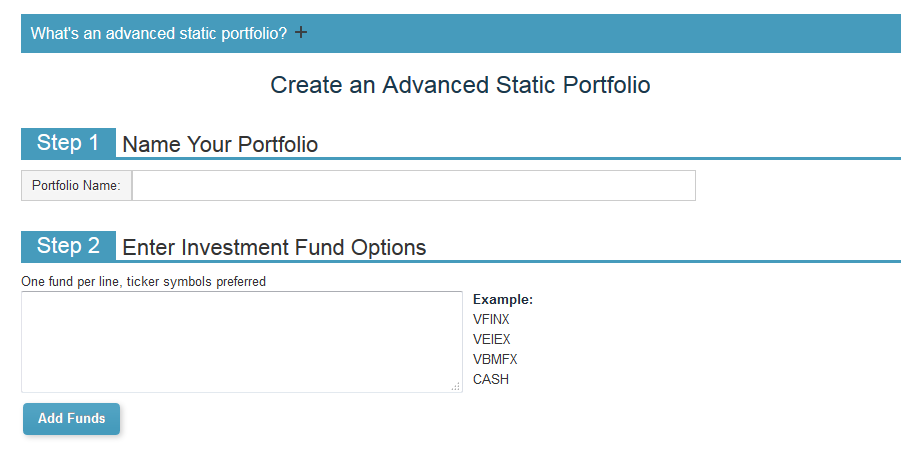 You can create an advanced static portfolio that is based on your asset allocation templates. Enter a list of ETFs or mutual funds and then specify target allocation percentages for each asset class (such as U.S. stocks or U.S. SmallCap), the tool will automatically generate a portfolio using the template. It uses MyPlanIQ fund selection and rebalances at a rebalance time, either monthly, quarterly or other frequencies you choose.