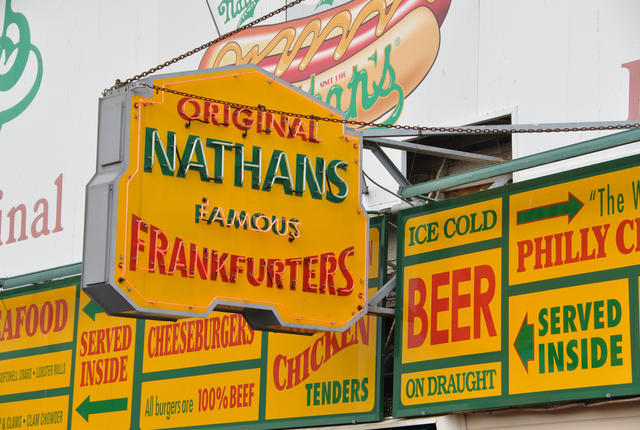 Did you know that Nathan's Famous, the hot dog place, is publicly traded? It is. Their symbol is NATH.
Here are some numbers: The stock closed yesterday at $43.69 per share. There are 4.35 million outstanding shares, which gives them a market value of $190 million. In Wall Street terms, that's peanuts.
But there's another fact about NATH. The stock has been a gigantic winner! Since December 31, 1999, the S&P 500 Total Return Index is up 92.55%, but Nathan's is up 1,936.36%.
Check it out: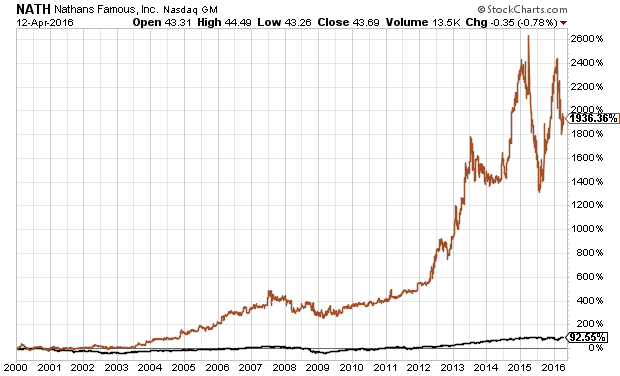 In simpler terms, investing in hotdogs would have made your money grow by 18-fold while the rest of the stock market would have almost doubled it.
Yet that's still not the most arresting fact about investing in Nathan's. What I find truly remarkable is that despite being based in New York, and being an icon of the city (Bernie just went there with Michael Stipe), AND being a tremendous winner, the stock isn't followed by a single Wall Street analyst.
Nathan's might as well be invisible. Think about that. We can't even say whether Nathan's "beat consensus" because there isn't any.
I highlight this stock to show you that there are lots of great companies out there. It just takes a little digging. So much investment talk seems to focus on about 15 to 20 stocks, but there are thousands of stocks out there. In fact, it's probably easier to find a bargain by looking at areas where Wall Street isn't.