Windstream Corporation, together with its subsidiaries, provides various telecommunications services primarily in rural areas in the United States. It offers phone, high-speed Internet, and digital television services.
WINDSTREAM 401(k) PLAN consists of 15 funds. These funds enable participants to gain exposure to 4 major assets: US Equity, Foreign Equity, REITs, Fixed Income.
| Asset Class | Ticker | Name |
| --- | --- | --- |
| Foreign Large Blend | MDIIX | BlackRock International Index A |
| MID-CAP BLEND | VIEIX | Vanguard Extended Market Idx Instl |
| MID-CAP BLEND | RPFIX | Royce Premier Instl |
| Intermediate-Term Bond | MRAIX | Marshall Aggregate Bond Instl |
| Foreign Large Blend | CEUFX | American Funds EuroPacific Gr 529F |
| LARGE GROWTH | RGAFX | American Funds Growth Fund of Amer R5 |
| Intermediate-Term Bond | CCBBX | BlackRock Total Return II BlackRock |
| SMALL VALUE | CSCZX | Columbia Small Cap Value I Z |
| High Yield Bond | MHYIX | MainStay High Yield Corporate Bond I |
| REAL ESTATE | RRRRX | DWS RREEF Real Estate Securities Inst |
| LARGE VALUE | PYEQX | Pioneer Equity Income Y |
| Small Growth | SIGWX | Sentinel Small Company I |
| LARGE BLEND | VINIX | Vanguard Institutional Index |
| Asset Class | Number of funds |
| --- | --- |
| Balanced Fund | 0 |
| REITs | 1 |
| Fixed Income | 3 |
| Commodity | 0 |
| Sector Fund | 0 |
| Foreign Equity | 2 |
| Emerging Market Equity | 0 |
| US Equity | 7 |
| Other | 2 |
| Total | 15 |
As of Jan 27, 2012, this plan investment choice is rated as above average based on MyPlanIQ Plan Rating methodology that was designed to measure how effective a plan's available investment funds are . It has the following detailed ratings:
Diversification — Rated as average (49%)
Fund Quality — Rated as great (92%)
Portfolio Building — Rated as above average (75%)
Overall Rating: above average (72%)
The chart and table below show the historical performance of moderate model portfolios employing strategic and tactical asset allocation strategies. In the current economic and financial market environment,  it is even more critical to properly diversify and respond market changes. MyPlanIQ offers two asset allocation strategies: strategic and tactical asset allocation strategies (SAA and TAA for participants in WINDSTREAM 401(k) PLAN).
Strategic Asset Allocation is based on well known modern portfolio theory and its key features include: diversification, proper fund selection and periodically re-balancing.
Tactical Asset Allocation works on a diversified array of assets provided by funds in a plan and adjusts asset mixes based on market conditions such as asset price momentum utilized by TAA.
For comparison purpose, we also include the moderate model portfolios of a typical 4 asset SIB (Simpler Is Better) plan . This SIB plan has the following candidate index funds and their ETFs equivalent:
US Equity: SPY or VTI
Foreign Equity: EFA or VEU
REITs: IYR or VNQ or ICF
Fixed Income: AGG or BND
Performance chart (as of Jan 27, 2012)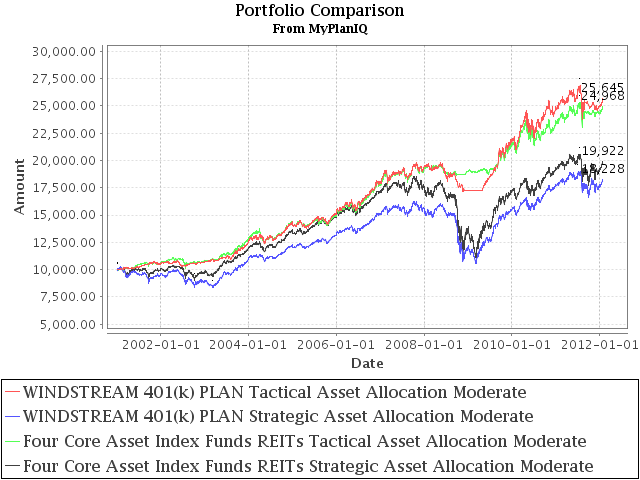 Performance table (as of Jan 27, 2012)
Currently Real Estate, Fixed Income and High Yield Bond are doing well. These asset classes are available to WINDSTREAM 401(k) PLAN participants.
Some observations:
High fund quality: the plan's fund choices are ranked very high (92%). Well known and high quality funds such as Royce Premier Instl, Pioneer Equity & Income, American Funds EuroPacific Gr 529F and others are included.
Reasonable diversification: this plan provides REITs, in addition to the most popular three major asset classes (U.S. stocks, International stocks and fixed income). This increases diversification effect that in turn delivered higher returns with lower risk.
Disclosure:
MyPlanIQ does not have any business relationship with the company or companies mentioned in this article. It does not set up their retirement plans. The performance data of portfolios mentioned above are obtained through historical simulation and are hypothetical.