Re-balance Cycle Reminder All MyPlanIQ's newsletters are archived here.
For regular SAA and TAA portfolios, the next re-balance will be on Monday, December 18, 2017. You can also find the re-balance calendar for 2017 on 'Dashboard' page once you log in.
As a reminder to expert users: advanced portfolios are still re-balanced based on their original re-balance schedules and they are not the same as those used in Strategic and Tactical Asset Allocation (SAA and TAA) portfolios of a plan.
Please note that we now list the next re-balance date on every portfolio page.
Cash Return And Interest Rate Update
As markets are in the mid of interest rate update cycle, yields of short term Treasury bills and bonds have risen gradually this year. In this newsletter, we look at the latest short term cash equivalent returns and interest rate trends.
Rates have risen
Short term rates have risen dramatically while long term Treasury bond yield (10 year) has remained flat: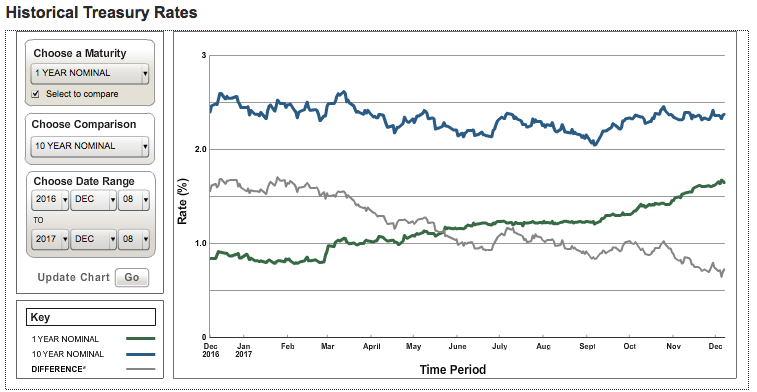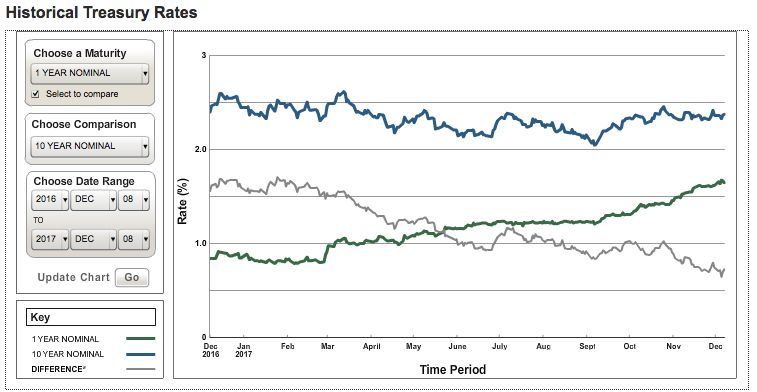 The yield curve (or the difference) between one year and 10 year yields have declined markedly. The flat 10 year interest rate indicates that investors are expecting a subdue economy growth (and inflation). The fast rising short term rate is mainly affected by the Federal Reserve's recent rate hike.
Similarly, yields of other short term Treasury debts have risen fast: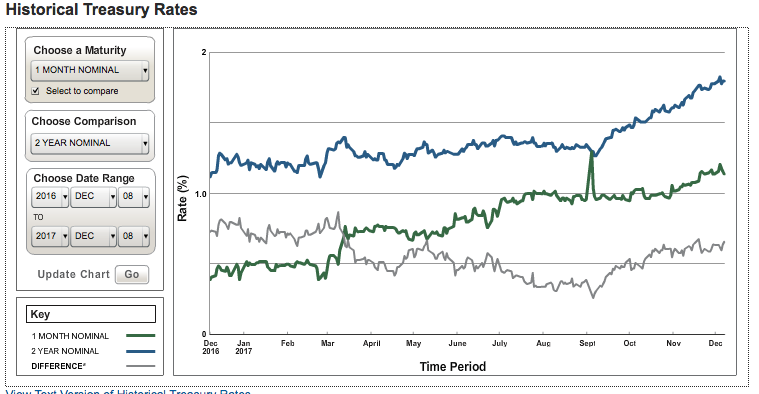 Banks continue to offer measly cash returns
However, interest rates from major banks are still depressed to close to 0:
| | One Month T-Bill Rate | 3 Month T-Bill Rate | Bank of America Savings | Chase Bank Savings |
| --- | --- | --- | --- | --- |
| Annualized Yield | 1.11% | 1.26% | 0.03% | 0.01% |
As we mentioned in September 25, 2017: Fees In Cash Investments, banks essentially are raking in more than 1% of your deposit money by paying almost zero interest to you as a customer. The gap is now even bigger as short term yields from Treasury Bills are much higher now. As a reminder, you can directly purchase Treasury bills (T-Bill) online from TreasuryDirect.com or even from your brokerage accounts free from fee.
As stated in that newsletter, you can also purchase brokered CDs from your brokerage account (not the CDs offered from your banks but the ones from exchanges). For example, the latest CDs offered from Schwab:
Schwab's Highest-Yielding CDs by Maturity and compared with T-bills


| Maturity | 1 Month | 3 Months | 6 Months | Selected 1 Year |
| --- | --- | --- | --- | --- |
| Schwab CD APY(%) | 1.257 | 1.407 | 1.557 | 1.750 |
| T-Bill APY (%) | 1.11 | 1.26 | 1.44 | 1.64 |
You can get approximately 0.1% or so higher interest payment by going to CDs in lieu of Treasury bills. Again, some simple management of your cash can help you to gain more than 1% return.
Longer term bond portfolio update
In another newsletter October 2, 2017: The Role of Short Term Bond Funds, we stated that for any cash that's needed in more than 2 years, one can choose to invest in a total return bond fund portfolio listed on MyPlanIQ's Brokerage Investors page. These portfolios are rebalanced once a month using an active strategy that can choose to invest in cash (money market) if bonds are in stress.
These total return bond fund portfolios have continued to perform well:
Latest Fixed Income Bond Fund Portfolios Performance Comparison (as of 12/9/2017):
To summarize, interest rates have risen gradually. However banks continue to offer depressing cash returns. For short term cash need, one can try to purchase short term Treasury bills or CDs from brokerages that offer more than 1% returns over banks. For cash needed in more than 2 years, our total return bond portfolios continue to be the best choice, even among intermediate bond funds managed by some of the best fixed income managers.
Market Overview
As Republican controlled congress is near to pass a tax reform bill that clearly will benefit stock share holders (though it's much more unclear how much it can help economy and the Main Street), US stocks are again in record high territory. Investors are now chasing those such as financials that are considered to have higher benefits from the tax bill. Long term Treasury rate remains to be flat while short term rates continue to rise. At some point, the flattened yield curve can signal some trouble, but it does not seem to be happening in the near term. Regardless, we shall stay the course.
For more detailed asset trend scores, please refer to 360° Market Overview.
Now that the Trump administration has been in the office for more than half a year, it has stumbled and encountered many difficulties to implement its promised changes in terms of tax cuts, job stimulation and infrastructure spending. On the other hand, stocks continued to ascend, regardless of the progress. Looking ahead, however, we remain convinced that markets will experience more volatilities at some point when reality finally sets in.
In terms of investments, U.S. stock valuation is at a historically high level. It is thus not a good time to take excessive risk. However, we remain optimistic on U.S. economy in the long term and believe much better investment opportunities will arise in the future.
We again would like to stress for any new investor and new money, the best way to step into this kind of markets is through dollar cost average (DCA), i.e. invest and/or follow a model portfolio in several phases (such as 2 or 3 months) instead of the whole sum at one shot.
Latest Articles