Re-balance Cycle Reminder All MyPlanIQ's newsletters are archived here.
For regular SAA and TAA portfolios, the next re-balance will be on Monday, July 27, 2015. You can also find the re-balance calendar for 2014 on 'Dashboard' page once you log in.
As a reminder to expert users: advanced portfolios are still re-balanced based on their original re-balance schedules and they are not the same as those used in Strategic and Tactical Asset Allocation (SAA and TAA) portfolios of a plan.
Please note that we now list the next re-balance date on every portfolio page.
Fixed Income Total Return Bond Funds In Strategic Asset Allocation Portfolios
As promised in our previous newsletter, we will discuss the benefits of using fixed income total return bonds for fixed income portion for a Strategic Asset Allocation based portfolio in this newsletter.
Many readers might have read our previous newsletters on using total return bond fund portfolios listed on Fixed Income Bond Fund Portfolios for the purpose of 'smart' cash or the fixed income portion in a tactical portfolio:
We have shown that a composite portfolio that consists of a full equity (risk profile 0) Tactical Asset Allocation portfolio which can be ETF or mutual fund based and a total return bond fund portfolio (with the same percentage of the fixed income allocation) can out perform a pure tactical portfolio because of the superior performance of the fixed income portion. The same approach can be used for a strategic portfolio.
To do so, we will construct an equity risk profile 0 strategic portfolio and use a total return bond fund portfolio such as Schwab Total Return Bond. We then construct a composite (or static) portfolio that holds the two portfolios. The target allocation of the risk profile 0 strategic portfolio is the target equity allocation while the target allocation of the total return bond portfolio is the fixed income target allocation.
For example, Six Core Asset ETFs Strategic Asset Allocation – Optimal Moderate Composite is a moderate portfolio that allocates 60% to the risk profile 0 (i.e. 100% in equity) portfolio P_60159 (Six Core Asset ETFs Strategic Asset Allocation – Optimal Most Aggressive) and 40% to the total return bond portfolio as follows:
Six Core Asset ETFs Strategic Asset Allocation – Optimal Moderate Composite Allocations
We create this type of composite portfolios for our three ETF plans listed on Brokerage Investors page. The following table compares their performance with their respective strategic allocation counter part:
Portfolio Performance Comparison (as of 7/2/2015):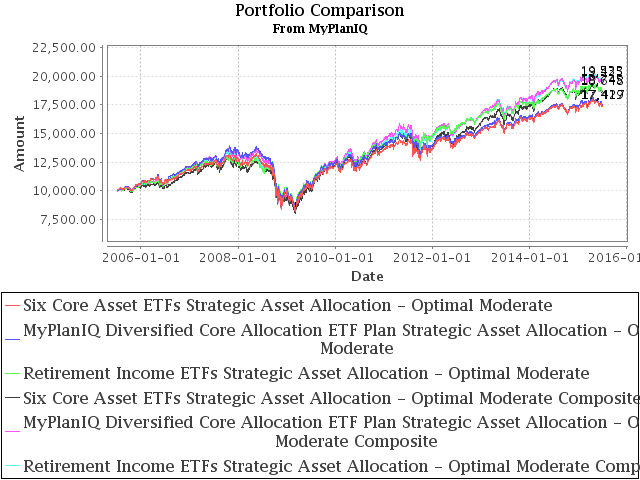 See detailed year by year comparison>>
All of the composite portfolios have done better than their pure ETF based counter parts. The result is also consistent with what we got for tactical portfolios.
Discussions
We make the following observations:
The more conservative your portfolios are, i.e. the more allocation in fixed income, the better improvement the composite portfolios will have. The opposite is also true. Therefore, for a conservative investor like an investor near or in retirement, you should seriously consider such an approach.
The same approach can be used for those mutual fund based portfolios. However, for the brokerage core mutual fund portfolios listed on Brokerage Investors page, such as Schwab Core Mutual Funds Strategic Asset Allocation – Optimal Moderate, we have carefully chosen total return bond funds available in a brokerage as candidate funds for these plans. We don't expect much further improvement if the same composite approach is used.
Using low cost, broad based index ETFs (example, Vanguard ETFs in Six Core Asset ETFs) for equity portion and total return bond mutual funds for fixed income portion can be tax efficient since the dividends/interests from an bond ETF such as BND is considered to be ordinary income anyway, similar to those obtained from total return bond mutual funds. The real tax efficiency comes from buy and hold equity index funds any way.
Using ETFs for equity portion is also better for rebalancing purpose since one might want to carry out sell and buy on the same day. However, for bond or fixed income funds, one can tolerate sell at one day and buy at one day later problem many mutual funds or brokerage imposes. For fixed income bond fund trading, since their price fluctuation is not as big as equities, the negative impact can be ignored.
We have customized total return bond portfolios for many brokerages and we feel much more comfortable to maintain these portfolios going forward as the candidate funds are few and chosen based on a well defined criterion, i.e. those funds whose managers have won at least once Morningstar fixed income manager of the year award.
Market Overview
Now that Greeks have finally voted 'no' on its debt bail out referendum, the Euro zone is in an uncharted territory. Since it does not seem that problem will be resolved soon, we need to be prepared for a very bumpy ride for a while. In the meantime, the Chinese stock market or more importantly, its economy, continues to be under stress. However, market reaction so far has indicated that investors are still holding hope. Regardless whether you call this complacency or 'wall of worry', ultimately, markets will follow a direction more firmly when more evidence is unfold.
For more detailed asset trend scores, please refer to 360° Market Overview.
We would like to remind our readers that markets are more precarious now than other times in the last 5 years. It is a good time and imperative to adjust to a risk level you are comfortable with right now. However, recognizing our deficiency to predict the markets, we will stay on course.
We again copy our position statements (from previous newsletters):
Our position has not changed: We still maintain our cautious attitude to the recent stock market strength. Again, we have not seen any meaningful or substantial structural change in the U.S., European and emerging market economies. However, we will let markets sort this out and will try to take advantage over its irrational behavior if it is possible.
We again would like to stress for any new investor and new money, the best way to step into this kind of markets is through dollar cost average (DCA), i.e. invest and/or follow a model portfolio in several phases (such as 2 or 3 months) instead of the whole sum at one shot.
Latest Articles
Enjoy Newsletter
How can we improve this newsletter? Please take our survey
–Thanks to those who have already contributed — we appreciate it.
RSS Feed
Disclaimer:
Any investment in securities including mutual funds, ETFs, closed end funds, stocks and any other securities could lose money over any period of time. All investments involve risk. Losses may exceed the principal invested. Past performance is not an indicator of future performance. There is no guarantee for future results in your investment and any other actions based on the information provided on the website including, but not limited to, strategies, portfolios, articles, performance data and results of any tools. All rights are reserved and enforced. By accessing the website, you agree not to copy and redistribute the information provided herein without the explicit consent from MyPlanIQ.